Just when you thought that life in urban India was pretty convenient — it's now possible to find medicines, groceries, and even love at the tap of a button — an Indian startup goes ahead and makes things even easier.
Blinkit has said it will begin delivering printouts in 11 minutes. Customers will need to simply upload their files, and the printouts will be delivered to their homes. Blinkit has already begun a pilot in Gurgaon, and is charging Rs. 9 for black-and-white printouts and Rs. 19 for for colour prints. It'll also charge a Rs. 25 charge for deliveries.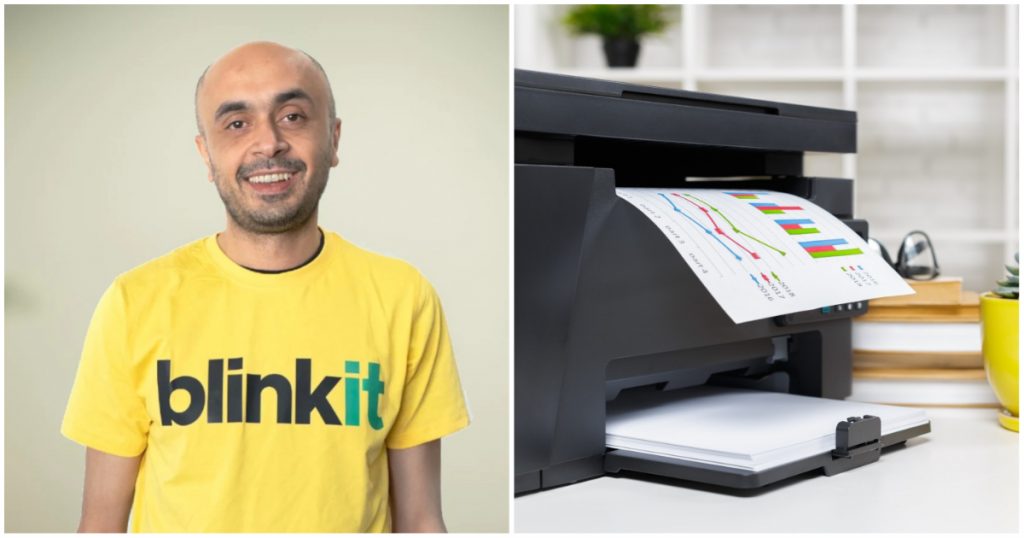 "We intend to be an organisation which is always innovating for our customers, and being able to provide services that help them lead better lives remains at the core of the Blinkit mission," a Blinkit spokesperson said. "We recently launched our print pilot in a few locations (including Sector 43 and Golf Course Road) in Gurgaon. We will look forward to launching the same in more locations (including Delhi) in the near future provided we notice the service being useful for our customers," they added.
Blinkit had started off as a grocery delivery service, but has been building up diverse categories in its app. Blinkit delivered Covid testing kits during the pandemic, and also delivers stationery and cosmetics. Blinkit CEO Albinder Dhindsa has previously hinted that his company would build its product selection, and look to deliver a large selection of e-commerce items within minutes.
But delivering prinouts is a whole different ball-game. As opposed to simply stocking its dark stores with more items, Blinkit will have to set up a printing machine, receive uploaded files from users, print them out, and deliver them. Blinkit will also
Interestingly, Blinkit's expansion into printing as a service comes when itappears to have rolled back on its initial 10-minute delivery promise. Blinkit had been rebranded with the promise of delivering groceries in 10 minutes, and had initially even stopped delivering in areas where it couldn't meet that delivery time. But in the last few weeks, Blinkit has quietly taken off the 10-minute delivery promise from its website and marketing collaterals, and now simply promises to deliver items in "minutes".
The roll-back on the 10-minute grocery delivery promise could indicate that Blinkit feels that 10-minute deliveries might not be economically feasible, but that hasn't stopped the company from venturing into the 11-minute printout delivery space. It remains to be seen how Blinkit's printout delivery service plays out, or if it manages to become a regular fixture in its portfolio, but with even prinouts now available in homes at the tap of a button, it's hard to not appreciate how the magic of capitalism continues to inexorably drag the human race towards a life that might be easier and more convenient than ever before.