Byju's might've reported losses of Rs. 260 crore last year, but its acquisition spree continues unabated.
Byju's has now acquired US-based startup Tynker for $150-200 million (Rs. 1,500 crore). Tynker is a coding platform for kids, and had been founded all the way back in 2012. The co-founders of Tynker will continue with the company, and will run it as a separate entity. "We have been looking at their product for a long time. They have built a strong community of students—those who love to code," Byju's CEO and founder Byju Raveendran said on the acquisition.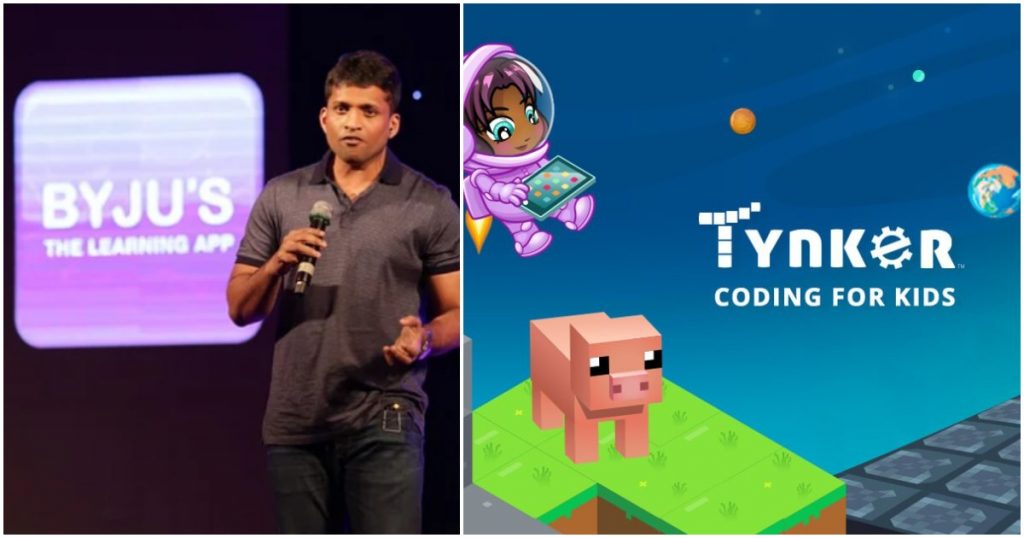 Tynker was founded by Krishna Vedati, Srinivas Mandyam and Kelvin Chong, and provides kids aged 5-18 a fun way to learn programming and develop problem-solving & critical thinking skills.  Its coding platform has been used by over 60 million kids and 100,000 schools in 150 countries. Crucially, the platform is used by 1 in three schools in the US.
Byju's now has what is possibly the most formidable US-based portfolio of any Indian startup — the company now owns Osmo, which makes learning games for children, Epic, which is a platform to help children get interested in reading books, and Tynker, which helps children learn how to code. "All the three acquisitions are different and complementary to each other. We are not making these integrations to neutralise competition. These are skill-sets we don't have, and marketing expertise we don't have," Raveendran said.
Even in India, Byju's has embarked on an aggressive acquisition spree. Byju's had earlier acquired coding company WhiteHat Junior, which like Tynker, helps young children learn how to code, and then acquired offline coaching center Akash Educational servies for nearly $1 billion (Rs. 7000 crore). Byju's has also acquired school learning platform Toppr, and professional upskilling platform Great Learning.
Tynker and WhiteHat Junior operate in the same space — teaching coding to kids — and also in the same geography, with WhiteHat Jr looking to expand in the US. But Byju's says that its two acquisitions won't cannibalize each other, but would instead be complementary. "What we are getting here is a strong asynchronous platform (Tynker), complementing synchronous expertise which we have through WhiteHat Jr. A combination of this creates more options for students," he added. WhiteHat Jr has live classes with a human tutor, while Tynker runs games which can be played at any time without any human intervention.
All these acquisitions haven't come cheap — Byju's has spent around $2 billion in buying out all these companies. But Byju's now appears to not only want to run an ed-tech company, but it seems to want to stamp its authority over the entire education space itself — it has a finger in all stages of education, right from pre-school to college preparations to career upskilling. These acquisitions have made Byju's the most valuable startup in India, and if it can run all these businesses efficiently, while utilizing synergies between them, it could end up being a once-in-a-generation company that ends up disrupting the entire education space.