The last of India's e-commerce giants has finally made its online pharmacy play.
After Amazon, Reliance and the Tata had all either acquired or built their online pharmacy businesses, Flipkart too has thrown its hat into the healthcare ring. Flipkart has acquired a majority stake in SastaSundar.com, which sells medicines and health products online. The size of the deal was not disclosed. Flipkart will create a new health-focused vertical named Flipkart Health+ after the acquisition.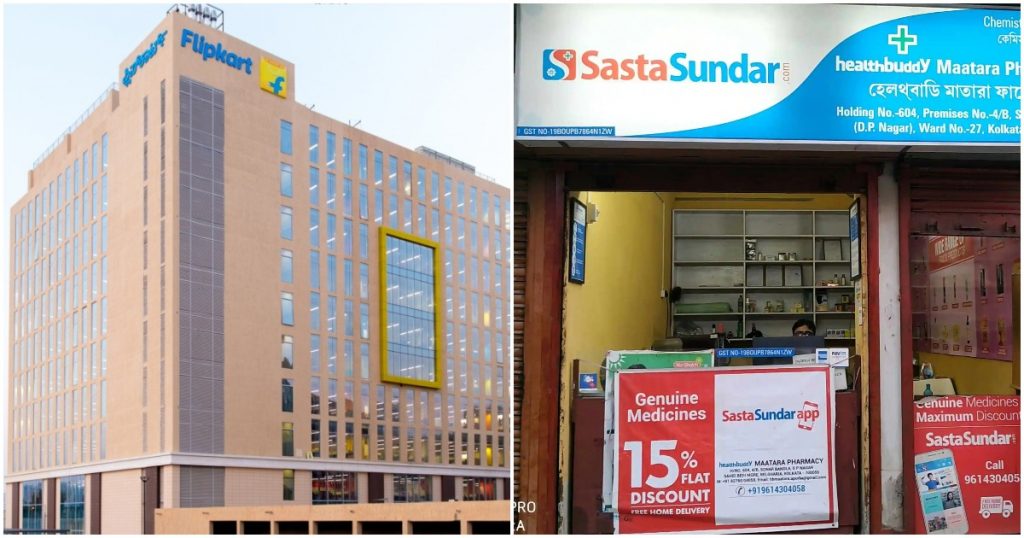 "With growing awareness and focus on health heightened by the pandemic, there is a large opportunity and demand for affordable healthcare and ancillary offerings," said Ravi Iyer, senior vice president and head of Corporate Development at Flipkart. "We are excited to enter this space through this investment in SastaSundar.com, a company that has established itself as a trusted partner for lakhs of consumers through genuine products, a technology-powered platform and a wide network. The synergies between the Flipkart Group and SatsaSundar.com, combined with our commitment to prioritize our customer's needs, will help us grow and transform online healthcare in India," he added.
"At SastaSundar.com we are focused on developing innovative ways to provide access to affordable healthcare easily and conveniently, building a trusted network for authentic medicines, diagnostics and wellness," said SastaSundar Founder and Chairman BL Mittal. "Through this partnership with Flipkart, we see an opportunity to further grow and reach a larger consumer base, using complementary technologies and logistics infrastructure," he added.
Sasta Sundar had been founded in 2013 by BL Mittal and Ravi Kant Sharma. Through its web portal, Sasta Sundar works with 490 pharmacies, and allows users to buy medicines, health and beauty products, ayurvedic and herbal medicines, orthopedic and surgical care units online. The Kolkata-based company had raised $48 million so far, and was valued at $125 million (Rs. 900 crore) in 2019.
This isn't the first time that Flipkart has eyed the healthcare space. Last year, Flipkart had partnered with 1mg to begin delivering medicines to users. But things have changed since then — Tata has acquired 1mg, Reliance has acquired Netmeds, and Amazon has started delivering medicines on its own through Amazon Pharmacy. Flipkart in turn has now acquired Sasta Sundar, putting it on an even keel with other large e-commerce players.
It appears that all large companies seem to agree that online medicine delivery could be the next big thing in the e-commerce space. Medicines are ideal candidates for online delivery — unlike clothes, they don't have different sizes or colours, and are small and easy to ship. Also, while people make impulse purchases while browsing through malls, nobody particularly enjoys buying medicines at a physical store, and it's very likely that a large fraction of medicine purchases could move online in the coming years.
The only bottleneck had been whether selling medicines online was entirely legal — India's association of pharmaceutical shops had previously raised concerns in this regard — but with biggies like Reliance, Tata, Flipkart and Amazon all in the space, regulatory concerns shouldn't be too hard to surmount. And with all of India's e-commerce giants now looking to build their online medicine delivery verticals, India's online medicine delivery space — which currently accounts for only 5% of all medicines sold in India — could soon become a sizable component of the overall e-commerce pie in the years to come.