Nykaa had a bright start to its journey as a public company when its stock had nearly doubled on listing, but it's been a downhill journey ever since.
Nykaa's stock has hit a fresh new low of Rs. 116 per share. Nykaa's stock has fallen 6.5 percent in the last 5 days alone. The stock is down 12 percent this month, and down 24 percent this year. The stock is down 53 percent over the last twelve months, and down an astonishing 71 percent since its listing in November 2021.
Nykaa's shares have been freefall since being listed. They listed at an adjusted price of around Rs. 400, and rose around 10% within a couple of weeks of listing. But that was the highest level that stock ever hit — since then, it's been on a steady downward decline, and is now 71 percent below those Rs. 400 levels.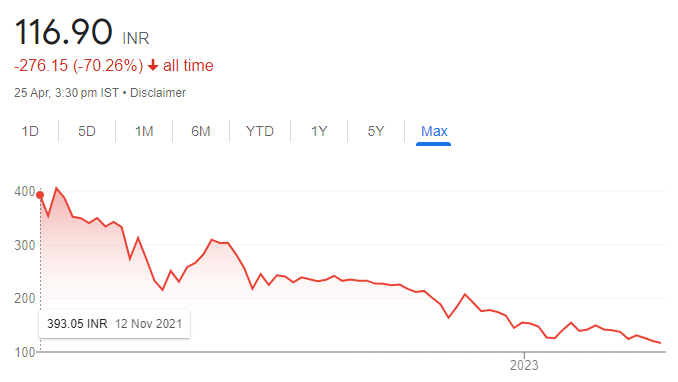 Nykaa's fall in share price mirrors the fall in its profits over the period. Nykaa had reported a profit of Rs. 69 crore in the December quarter in 2020, which halved to Rs. 29 crore in 2021. It has now fallen 68% from that level to Rs. 9 crore this year. Nykaa's profit, thus, has fallen 87% from 2020 to 2022.
Nykaa has also had to contend with some other issues. Nykaa had timed the date of the announcement of its bonus issue right when the one-year lock-in period for the stock ended, which prevented investors from selling their shares as soon as they were able able to. This move was seen by some observes as a clever corporate machination that prevented a fall in in its stock price. The ploy, however, didn't quite work, and Nykaa's stock has fallen steadily since. Nykaa has also seen some big new competitors enter the space — Reliance has launched beauty platform Tira, and the Tata Group has its own beauty play with Tata Cliq Palette.
And most interestingly, Nykaa's stock is at exactly the level predicted by analyst firm Macquarie. Just last month, when Nykaa's stock was trading at Rs. 149 a share, Macquarie had said that its stock was worth just Rs. 115. This is the second big success for Macquarie, which had correctly predicted the fall in Paytm's stock —  at Paytm's IPO, it declared that the shares were only worth Rs. 1,400, and the share price dutifully followed, falling from Rs. 2,100 to Rs. 1,400 in a matter of days. Over the last year, Macquarie had predicted Paytm's shares were worth Rs. 900, Rs. 700 and Rs. 450, and Paytm's shares tumbled each time. Macquarie has now correctly predicted the fall in Nykaa's stock. These are still early days, but Macquaire is quickly developing a reputation of being a research firm that's managing to see through much of the the froth and bluster in India's startup space.