Ola's electric scooters might be beset with controversy, but that isn't stopping the company from pushing forward with its electric initiatives.
Ola has announced a new electric car. Ola had been teasing the car for a while now, but officially made the announcement in an event coinciding with India's independence day. Ola said the car would be available in 2024.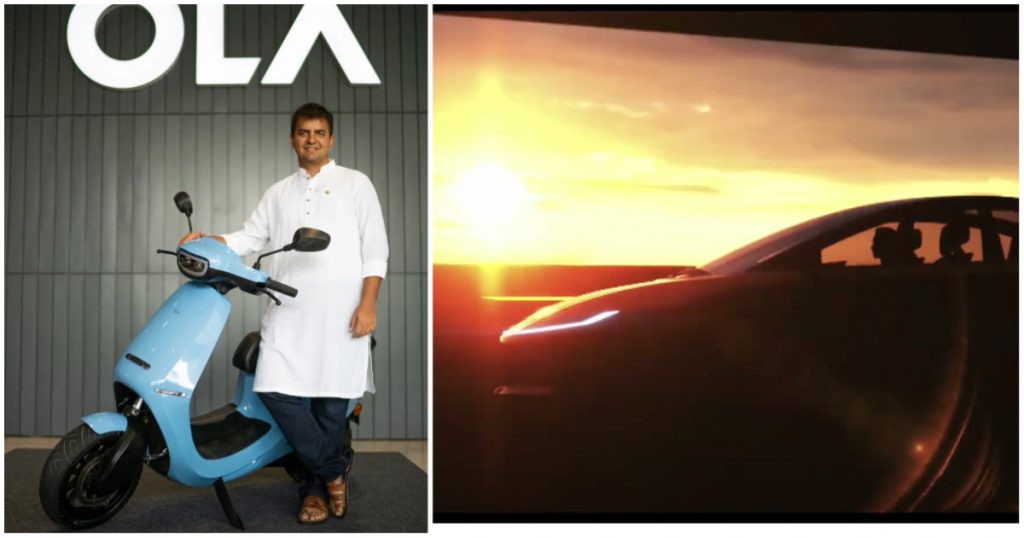 "We deserve a car that defines this new India," said Ola CEO Bhavish Aggarwal. "An India that is fearless and believes in writing its own destiny. Our car is going to be one of the fastest cars in India. 0 to 100 within 4 seconds, it will have a range of more than 500 kilometres per charge. It will be the sportiest car ever built in India, with an all-glass roof, it will have Move OS and assisted driving capabilities as good as any other car in the world. It will be keyless and handleless," he added.
Ola is yet to confirm the form factor of the new car. A teaser image shared by the company earlier this year depicted a hatchback, but the silhouette of the car depicted in the new Ola Electric video shows what looks like a sedan with a fastback roof.
Ola's plans, though, might be fluid — it company says it eventually plans to develop two vehicle platforms, and as many as six different cars, all of which will be manufactured from its giga factory in Tamil Nadu. Ola's future factory, which is currently the world's largest two-wheeler factory, will be expanded across an area of 1,00 acres in order to accommodate the manufacturing capabilities required to make 10 million scooters, 1 million electric cars and cells with a combined capacity of 100 GWh. 
These are all ambitious plans, but Ola has been previously found wanting with the grand pronouncements it had made with its electric initiatives. Ola's electric scooter launch had initially been delayed, and once the scooters had reached customers, they had been missing many of the features that were promised. Ola's scooters were also found to have defects including panel gaps, they couldn't quite provide the 181 km range the company had claimed in its initial marketing videos. More seriously, an Ola electric scooter had exploded in Pune, and after a government committee had pulled up Ola and other EV makers for selling sub-standard scooters, Ola had recalled some of its vehicles.
This isn't to say that Ola new electric car might not succeed — to its credit, Ola managed to put an electric scooter on the roads without having any background in automobile manufacturing, and has sold nearly 70,000 Ola S1 Pros to date. But an electric car might be a different beast altogether — only a handful of companies build electric cars at scale, and Ola will look to join that elite club the next couple of years. It remains to be seen how Ola's electric car dreams play out, but one thing's for certain — Ola is going all-in on its electric mission over the next few years.