There had been plenty of controversy around Zomato's annoucement of offering 10-minute food deliveries — many had said that food deliveries in 10 minutes weren't needed, while others said that such delivery promises could lead to rash driving by delivery executives. But even as Zomato's plans haven't fully rolled out, it already has competition from some unlikely quarters.
Ola has begun offering food deliveries in select parts of Bangalore within 10 minutes. The food deliveries are a part of its 10-minute grocery delivery initiative Ola Dash. Items on the 10-minute menu include pizza, rolls and "Indian tadka", which consists of khichdi, bowls and biryani. Ola describes the dishes as "freshly prepared", and they are prominently displayed on the Ola Dash menu.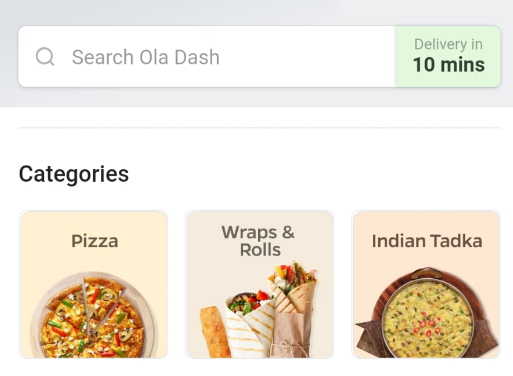 Interestingly, Ola is using the facilities of food robotics startup Mukunda Foods, in which Zomato is an investor, to power its 10-minute deliveries. Mukunda Foods makes robotic machines that it says reduce cooking time by 20-50% for Chinese and Indian dishes. Mukunda Foods is also working with Swiggy to power quick food deliveries, and says that since it doesn't have an exclusivity contract with any of these companies, can render its services to all of them.
But it's fairly remarkable that instead of Zomato or Swiggy, it's Ola that's first gone live with 10-minute deliveries of food. Ola had first entered the 10-minute grocery delivery space through Ola Dash a few months ago, but now seems to be first off the blocks with 10-minute food deliveries. Ola Dash is currently not available in all cities, but Ola appears to have already experimented with bringing food under its ambit.
And grocery and food delivery isn't the only new vertical that Ola is venturing into. Ola's home screen now looks much like that of a super app — Ola now delivers groceries through Ola Store, runs a host of cloud kitchen brands under Ola Food, and even allows people to buy pre-used cars under Ola Cars. Apart from this, Ola has embarked on an ambitious electric scooter initiative, through which it's set up the world's largest scooter factory, and has taken bookings for thousands of electric scooters.
It remains to be seen how serious Ola is about its latest food delivery move, but there's no shortage of competition in the space. Zomato and Swiggy have cornered nearly the entire food delivery market, and will likely not sit idly by as Ola looks to encroach on their turf. Crucially, Zomato is an investor in the company that's helping power Ola's food deliveries, so it's unlikely that Ola will retain its competitive advantage for long. Also, while Swiggy and Zomato seem hyper-focused on food, Ola is running a ride-hailing business, selling used cars, running cloud kitchens, bringing about electric vehicle revolutions, and also venturing into the grocery delivery space. Time will tell how Ola's 10 minute food delivery move plays out, but the company — much like Paytm — could be risking spreading itself too thin.