Such is the excitement around 10-minute grocery delivery that a cab-hailing company-turned-electric scooter manufacturer has also decided to throw its hat into the ring.
Ola has entered the grocery delivery space, and says it will deliver groceries in 10 minutes. "Ola Store: Everything you need at home. Delivered in just 10 minutes," Ola has said in a promotional mail to customers. "Say goodbye to waiting for things. Get instant delivery of what you want from Ola Store," the mail adds. The value proposition that Ola is providing is compelling — Ola says it will deliver within 10 minutes, had have no delivery charge. Ola is also offering discounts of up to 30 percent, and says that there is no minimum order value on its orders.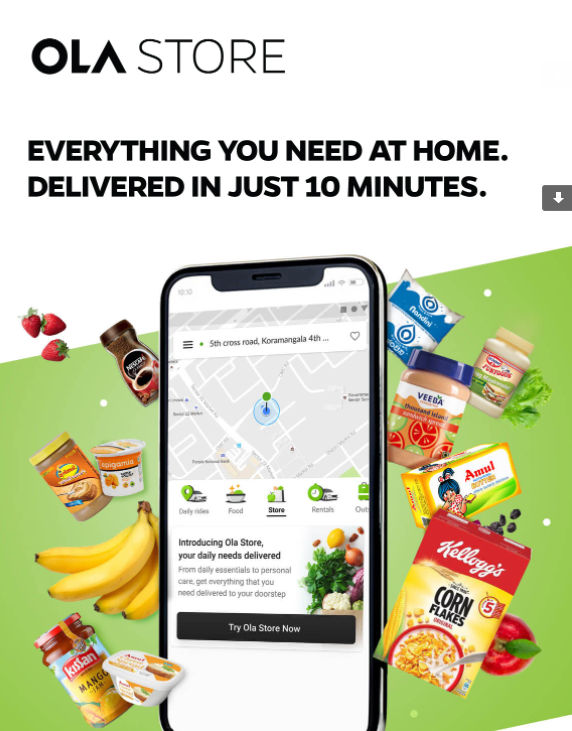 Just last November, Ola had added the grocery delivery tab on its app through something called 'Ola Store', but back then, had promised to make deliveries in 30 minutes. But lots has changed since then — Zepto has doubled its valuation to $570 million on the promise of 10-minute deliveries, and Grofers has even rebranded itself to Blinkit, and stopped serving areas where it couldn't deliver to customers in 10 minutes. Ola now seemed to have jumped into the game, and is claiming to provide 10-minute deliveries as well.
Ola's 10-minute delivery service appears to be live in Bangalore, and has a user interface that's similar to other grocery delivery apps including Dunzo, Zepto and the rest. While Ola promises 10-minute deliveries, the exact delivery times, like for apps like Zepto and Dunzo, vary slightly depending on the time and demand — at our location, Ola said it would deliver groceries in 15 minutes.
This isn't the first time that Ola, which is best known for its ride hailing service, has ventured into the grocery delivery space. All the way back in 2015, Ola had launched grocery deliveries under the same Ola Store brand, and had promised deliveries in 1-hour delivery slots. At that point, Ola had tied up with retail chains including PNP Retail, Topintown, and Namdhari's Fresh to fulfil orders. But the experiment hadn't quite worked — a year later, in 2016, Ola had shut down the service.
But grocery delivery isn't the only new vertical that Ola is venturing into. Ola's home screen now almost looks as though the company has super-app ambitions — Ola now delivers groceries through Ola Store, runs a host of cloud kitchen brands under Ola Food, and even allows people to buy pre-used cars under Ola Cars. Apart from this, Ola has embarked on an ambitious electric scooter initiative, through which it's set up the world's largest scooter factory, and has taken bookings for thousands of electric scooters.
It remains to be seen how serious Ola is about its latest move, but there's no shortage of competition in the grocery delivery space. Tata has acquired BigBasket, and Reliance has invested in Dunzo to help with deliveries for its JioMart network of kirana stores. Meanwhile, Zepto and Blinkit seem laser-focused on 10-minute grocery deliveries. Ola, on the other hand, is running a ride-hailing business, selling used cars, running cloud kitchens, bringing about electric vehicle revolutions, and also venturing into the grocery delivery space. Time will tell how Ola's grocery delivery vertical plays out, but the company — much like Paytm — could be risking spreading itself too thin.