Ola had first started its bike ride services all the way back in 2016, but amidst onerous regulations, pressure from local authorities, and increasing competition from newer players, had quietly exited the space. The company, however, has again thrown its hat into the bike ride ring, but this time with a difference.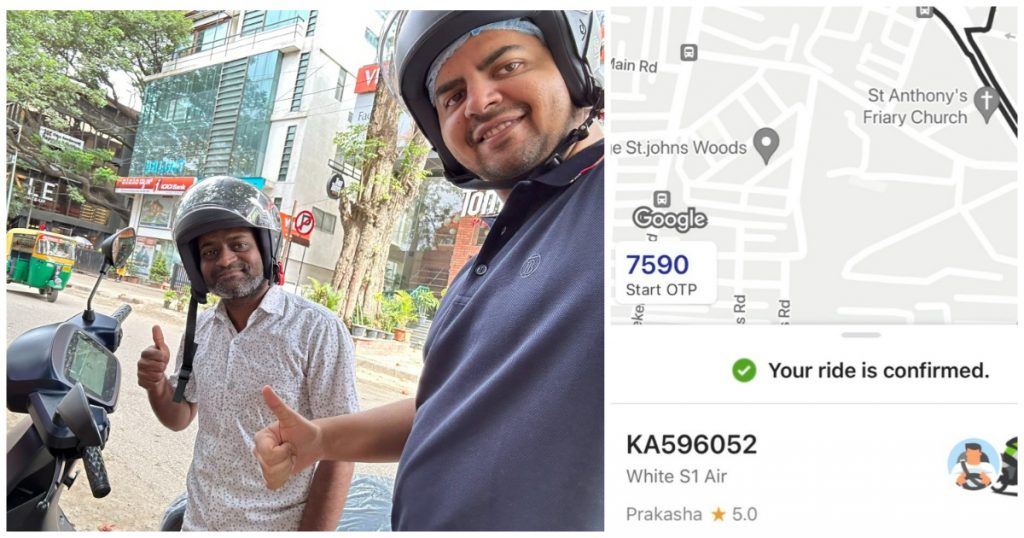 Ola has restarted the Ola Bike serves in Bangalore, CEO Bhavish Aggarwal has announced. The fleet will be all-electric, and feature Ola's own S1 scooters. The rides will cost Rs. 25 for 5 km, and Rs. 50 for 10 km. "Lowest cost, very comfortable and great for the environment! Will scale across India over next few months," Aggarwal tweeted.
This is Ola's second stab at running a bike taxi business. In March 2016, Uber had announced that it was launching a bike taxi service in Bangalore. Hours later on the same day, Ola too had announced a similar service. The bike taxis quickly caught on among users, but local authorities were less impressed. Just two days later, Bangalore's transport department had declared bike taxis illegal, and had seized several vehicles. Not long after, Uber and Ola had both stopped bike taxi services in the city.
Much water has passed under the bridge since then — both companies launched bike taxis in other cities, and were met with varying levels of resistance. Covid struck too, and bike taxis eventually didn't end up being a priority for either company. But newer players emerged, such as Rapido, which are currently running bike taxis in several cities including Bangalore.
Ola, though, had gone through a transformation of its own in the intervening period. In late 2020, Ola had set up what it called the world's largest electric two wheeler factory in Tamil Nadu, and has quickly become India's largest electric 2W manufacturer. Ola is now revisiting its old bike taxi idea, but from a different point of view — the bikes will all be its own electric vehicles.
There could certainly be many positives in running a fully self-owned fleet. Ola would likely own or lease out the vehicles, so it can earn itself a larger cut on the rides. Electric bikes are also much cheaper to operate than conventional bikes, so it's possible that its electric rides could be more cost effective than the competition. Ola already runs a popular cab and auto hailing service, so it should have no trouble finding customers for its electric bike services.
But electric bikes are still largely untested as taxis. Ola's S1 bikes have a range of around 100 km on roads, and this further decreases when a pillion rider — as will be on bike taxis — is involved. As such, each bike might need to be charged more than once a day, which could lead to lower usage efficiency of its bikes. Also, since Ola will use only its own electric bikes for the initiative, it could be a while before it manages to have a sizable fleet in place, and having fewer bikes available in initial stages could lead to long wait times for users.
Ola, however, seems to be betting that electric bikes are the future. It's gone all-in on the electric revolution, and is open about eliminating ICE vehicles completely. And an all-electric two wheeler taxi fleet might just be another step towards that plan.