India's EV revolution has now been simmering for a while, but 2022 was the year when it finally came of age. In 2021, less than 1 percent of two wheelers sold in India were electric, but this number zoomed to 4 percent in 2022. More remarkably, all this happened while the industry battled with delayed deliveries, fires, and fatal accidents. While the EV industry might need to iron out a few niggling issues, the fact that electric vehicles managed to gain market share amidst all this bad press suggests that this might be an industry whose time has come. While the top companies saw their rankings see-saw on a monthly basis, there were the top electric two wheeler companies in India in 2022.
India's top electric two wheeler companies in 2022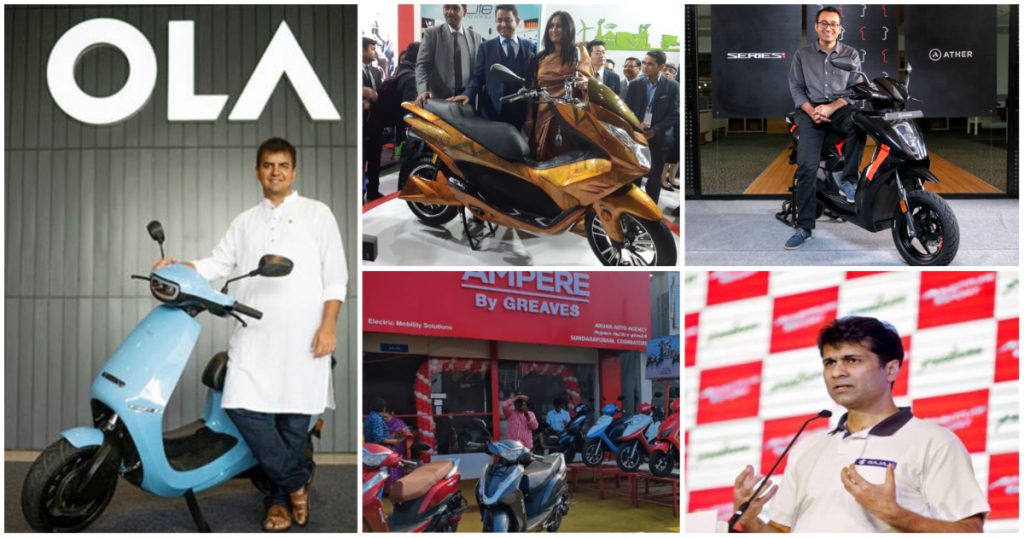 1.Ola Electric: 1,05,861 EV sales
Ola made the most headlines and the most noise in 2022, and ended up being India's top two wheeler electric brand. Ola had bet big in the space, setting up the world's largest 2W factory in Tamil Nadu with a capacity to produce 10 million units a year, and ran a high-voltage marketing campaign which featured rapper Raftaar and actor Ranveer Singh. Ola, though, had to battle some bad press this year, including complaints from customers about delayed deliveries, the range of its EVs, and one instance of its bike blowing up in Pune. But in spite of the challenges, Ola managed to be India's biggest electric 2W seller with 1,05,861 registered bikes in 2022.
2. Okinawa: 1,00,826 EV sales
Okinawa was a close second, and sold 1,00,826 electric two wheelers this year. Okinawa also battled its share of bad press — several of its two-wheelers caught fire, as did two of its dealerships. Okinawa, however, ended up being India's second biggest electric 2W seller in 2022 with 1,00,826 registered bikes.
3. Hero Electric: 96,110 EV sales
Hero is the world's largest two-wheeler maker, and its electric division was India's third-largest EV seller in 2022. Hero had to contend with the global chip shortage, and saw a hit to its sales in June. Nevertheless, it was a close third behind Ola and Okinawa, and sold 96,110 electric scooters in 2022.
4. Ampere: 79,161 EV sales
Ampere is owned by publicly-listed firm Greaves Cotton, which is looking to build up its EV presence with its own scooters, dealerships, and e-rickshaws. It was India's fourth-biggest electric 2W seller in 2022 with 79,161 sales.
5. Ather Energy: 50,236 EV sales
Ather is one of the earliest players in the EV space. It has attempted to differentiate itself from the competition by making most parts for its scooters in house as opposed to importing them. While Ather managed to make a name for itself in terms of safety and reliability this year, avoiding much of the bad press that plagued many other manufacturers, it could sell only 50,236 units, and ending up fifth on the list of India's top electric 2W companies.
6. TVS: 45,143 EV sales
TVS is a powerhouse in the traditional 2W space, but is also quietly building up its presence in electric vehicles. It too had a relatively incident-free year, and sold 45,143 units in 2022.
7. Bajaj Auto: 24,367 EV sales
Bajaj made plenty of headlines last year, but they were chiefly because of the statements of MD Rajiv Bajaj. Bajaj had said that his company would eat startups like Ola and Ather "for breakfast". But the two plucky startups seemed to let their numbers do the talking: Ather sold twice as many vehicles as Bajaj, while Ola sold four times as many. Revenge, it appears, is a dish best served cold.