Slowly but surely, even sectors most severely impacted by the coronavirus pandemic are limping back to normal.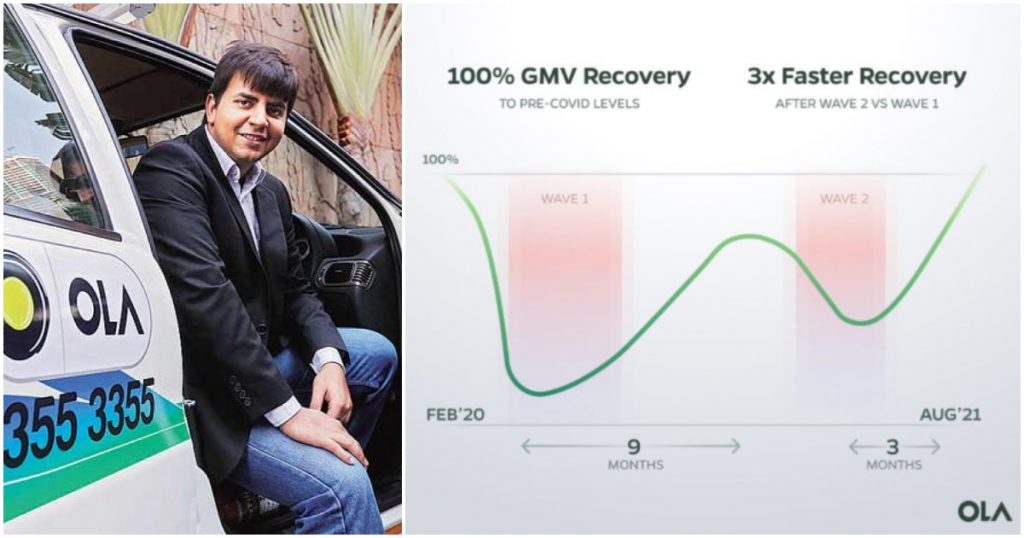 Ola's Gross Merchandize Value has crossed pre-pandemic levels, the company has said. "India is moving again! Our @olacabs GMV crossed pre-covid levels last week. Recovery from second wave is 3 times faster. Clearly India is up and about! Some interesting trends as India is moving," tweeted Ola CEO Bhavish Aggarwal.
Aggarwal showed a chart of Ola's GMV, which had fallen by nearly 70-80 percent when the first lockdown had been announced in March 2020. Over the next nine months, Ola's GMV had gradually recovered to nearly 75% of pre-pandemic levels, but then the second wave had struck. Ola's GMV had again crashed, this time going to around 50% of pre-pandemic levels. But the recovery after the second wave has been thrice as fast as the one after the first wave, and nearly 18 months after the pandemic had first struck, Ola's GMVs are back to where they were before the pandemic.
Aggarwal also added that some sectors were doing much better than before the pandemic. "As people move, they want to feel safe so they're switching to personal or shared mobility instead of public transport. Many are moving to Autos taking our Auto business to almost 150% of pre-covid levels," he added. It's likely that people are still slightly hesitant to be in a confined space with a driver, and are preferring open-air autos instead.
The ride hailing space had been amongst the worst-impacted by the pandemic. The lockdowns had ensured that cabs weren't even allowed on streets for long periods, and closed offices have meant the far fewer people needed to move around the city than before. Other sectors had been similarly impacted — in August, food delivery volumes were said to be at 75% of pre-pandemic levels. By September, Zomato had said they'd touched 85% of pre-pandemic levels, and by December last year, Zomato had said that its GMVs were higher than they were before the pandemic.
It's taken considerably longer for ride hailing to get back to normal — food delivery had the advantage of taking over some business from restaurants which were shut for in-person dining — but Ola would be glad to be at pre-pandemic levels all the same. With more people moving around, Ola's driver partners will again be able to earn their living, the company would once again start focusing on its cab hailing businesses. And unless there's a third wave in the offing, after 18 long months, the ride hailing sector appears to have finally put the pandemic behind it.