Paytm CEO Vijay Shekhar Sharma's banking dreams didn't quite come to fruition with Paytm Payments Bank. He's now looking to up the ante with something much bigger.
Paytm's parent company, One97 Communications, is in preliminary discussions to pick up a stake in private lender Yes Bank, multiple outlets have reported. Paytm will buy the stake from Yes Bank founder Rana Kapoor, who along with his family owns a 9.64 percent stake in the bank. The value of the deal is thought to be around Rs. 2000 crore. Neither Paytm nor Yes Bank have commented on the development.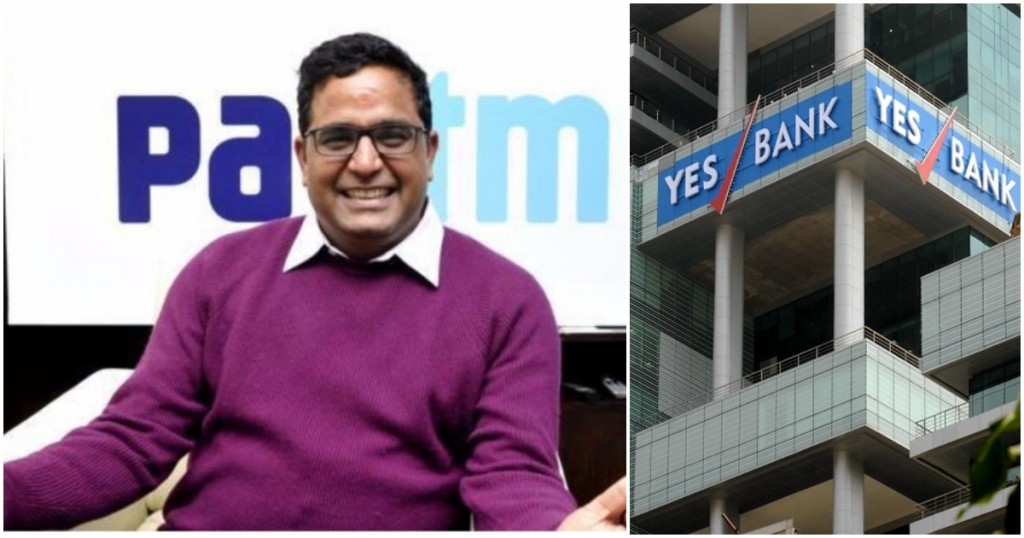 Paytm appears to be quickly snapping up a stake in Yes Bank while it's struggling — Yes Bank's share price has fallen over 80 percent over the last year on the back of growing NPAs and general sluggishness in the banking sector. Its shares currently trade at a mere Rs. 63, while it traded at Rs. 301 exactly a year ago, and Paytm could be looking to swoop in and make an investment on the cheap.
But Paytm's own banking plans themselves haven't gone quite as well. After launching Paytm Payments Bank in May 2017 with much fanfare, Paytm Payments Bank has largely failed to make an impact on India's banking system. More than a year after its launch, the bank only had Rs. 10 crore in total deposits, and was subsequently banned by the RBI from adding new customers over concerns around how it was storing its data. The bank is now allowed to once again get more customers on board, but largely appears to have lost momentum.
Yes Bank, though, appears to be in the market to raise capital. Last month, Yes Bank had raised Rs 1,930 crore through a qualified institutional placement after which the company board has approved a further capital raise. After the QIP, Yes Bank CEO Ravneet Gill had told TOI in an interview on August 17 that it is looking to raise "transformational capital" from investors who can help it enhance digital capabilities. "Other than private equity, this could come from tech companies. We are in fairly advanced talks with some of them," Gill had said in the interview.
Talk of tech companies and digital capabilities could mean that Paytm would be a suitable candidate. Paytm has expertise both in the tech space and the banking space, having been a tech company that operates a Payments Bank, and can help bring about the bank's digital transformation. There could be many synergies between the two companies — Paytm could use its massive user base to cross-sell Yes Bank's products, while Yes Bank could help out with Paytm's banking initiatives including with its Payments Bank and Paytm Money, its mutual funds selling platform.
But questions will persist around whether Paytm has the financial or management wherewithal to own a stake in a struggling national bank. Paytm is India's most valued startup with a valuation of $15 billion, but its own business isn't exactly flourishing. In UPI payments, Paytm is now third behind Google Pay and PhonePe, and its e-commerce operation Paytm Mall saw a 90 percent fall in traffic when it cut back on its cashbacks. Also, the company's losses rose 165% over the last year, and it lost over half a billion dollars in that period. In this scenario, one wonders if Paytm would want to take on the burden of turning around a large private sector bank. But Paytm's Vijay Shekhar Sharma has never been shy about his banking ambitions, and has never been shy of taking big risks — talk of the company acquiring a stake in Yes Bank might actually come to pass.