Until around a year ago, India didn't have a single used-car platform that was valued at over a billion dollars. It now has four.
Used car marketplace Spinny has become India's latest unicorn startup after raising $280 million in its Series E funding. The round was led by Tiger Global and Abu Dhabi Growth Fund, and values Spinny at over $1.75 billion. The fundraise makes Spinny the 39th startup to join India's unicorn club in 2021.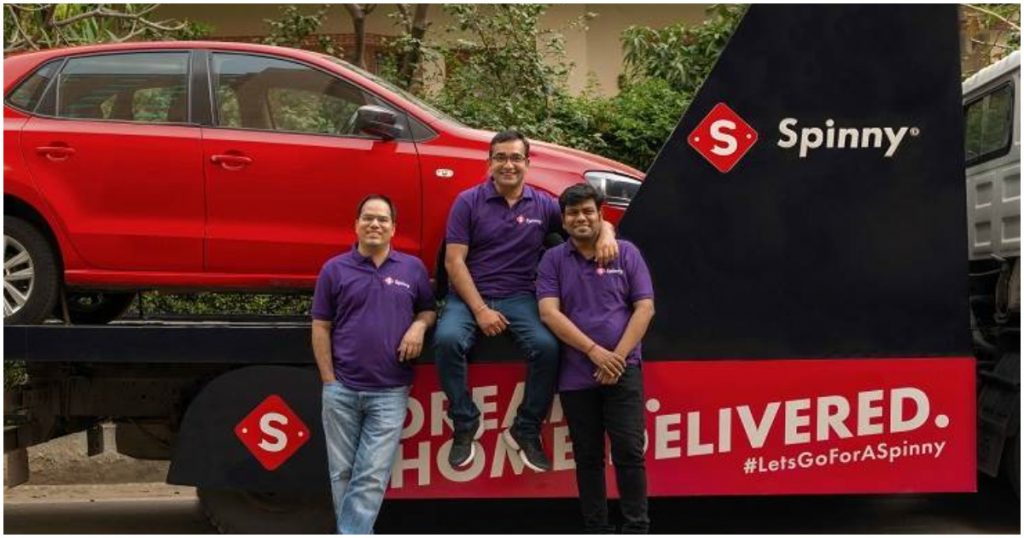 Like several other startups, Spinny has seen its valuation surge this year. In April, Spinny was valued at $350 million, but raised funds at a valuation of $700 million in July. Just five months later, it has again doubled its valuation to $1.75 billion. Spinny's valuation, thus, has grown more than five times in the last 8 months.
Spinny, though, has been in the used-car space for a while — the company had been founded by Mohit Gupta, Niraj Singh, Ramanshu Mahaur and Ganesh in 2015 after the co-founders had discussed how their friends had found that buying used cars was a complex and cumbersome process. Spinny then built an online platform that helped connect buyers and sellers, and added features that would streamline the car buying process including a Price Engine, an inspection report, and a pre-purchase inspection service, among others.
Spinny now operates in 15 cities around the country, and plans to expand to 25 cities by the end of the next year. Its current annualised revenue run rate is around $300 million, which is up 4x from the beginning of the year. The company now sells more than 3,000 used cars per month.
While Spinny seems to have grown rapidly this year, it has plenty of competition to contend with. In November 2020, Cars24 had raised funds at a valuation of more than $1 billion, and become India's first used-car platform to become a unicorn. In July this year, used-car platform Droom had become a unicorn with a valuation of $1.2 billion, and in November, CarDekho had become a unicorn with a valuation of $1.2 billion. Now Spinny has joined the club as well, becoming the fourth used-car platform to become enter the unicorn club.
But while venture capital has been enthusiastic about the used-car space, the reception hasn't been quite the same at the public markets. Used-car platform CarTrade had gone public in August, and its share currently trades 40% below its IPO price — CarTrade had gone public at a price of Rs. 1600 per share, but its share currently languishes at a price of Rs. 923. The four newly-minted used car unicorns have all seen their valuations rise sharply in 2021, but will need to demonstrate continued business and revenue growth to justify these billion-dollar numbers in the coming years.