And then there were two.
Zomato has acquired Uber Eats India for $350 million (Rs. 2500 crore) in an all-stock deal. In return, Uber gets a 10 percent stake in Zomato. This means that India's food delivery marketplace, which until now had been a three-way between Swiggy, Uber Eats, and Zomato, now only has Zomato and Swiggy slugging it out for top spot.
"We are proud to have pioneered restaurant discovery and to have created a leading food delivery business across more than 500 cities in India. This acquisition significantly strengthens our position in the category," Zomato CEO Deepinder Goyal said about the deal. Zomato said that it would discontinue operations on Uber Eats and direct its users to the Zomato platform. This change already reflects on UberEats — users opening the Uber Eats app are shown a message saying that "Uber Eats acquired by Zomato," before adding that users who'd ordered since 1st July 2019 on Uber Eats would have their accounts automatically set up on Zomato.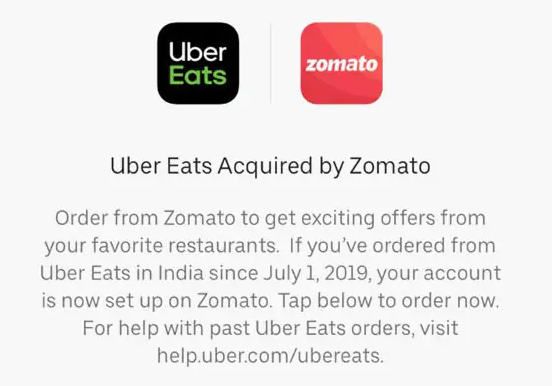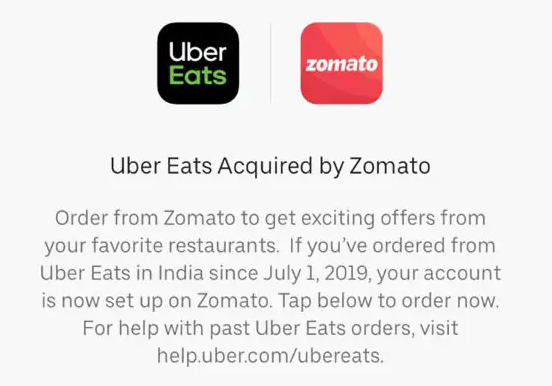 Uber, for its part, has tried to put up a brave face about selling off Uber Eats India, which it had started operations in 2017. Dara Khosrowshahi, the CEO of Uber, said that the Uber Eats team in India has achieved an incredible amount over the last two years. "We have been very impressed by Zomato's ability to grow rapidly in a capital-efficient manner and we wish them continued success," he said, while saying that Uber will continue to invest in its ride hailing business in India.
Uber starting off new businesses and selling them to local incumbents isn't new. In Russia, Uber had sold its cab hailing business to Russian company Yandex, in China, it had sold its ride hailing business to Didi, and in south-east Asia, it sold off its business to local player Grab. As such, selling off Uber Eats to Zomato would appear to be a part of Uber's playbook. Uber gets a 10 percent stake in Zomato, while Zomato will now battle it out with Swiggy for top spot in the food delivery race.
And it's a space that's seen competitors whittle down over the years. Until last year, it was a four-way race between Zomato, Swiggy, Foodpanda and Uber Eats. But both companies that were parts of ride hailing companies have bowed out of the race — last year, Foodpanda had discontinued its marketplace operations, and instead started its own cloud kitchens. With Uber Eats now being a part of Zomato, dominance in the space is now a straight two-way between Zomato and Swiggy. 
Zomato's acquisition of Uber Eats wasn't unexpected — it had been reported that Uber Eats was in talks with both Swiggy and Zomato for a sale — but it'll give breathing room to both players left in the race. With their two other competitors gone, Zomato and Swiggy will look to suspend the price wars that had caused every player in the space to lose serious money. Zomato had lost Rs. 2,094 crore in FY 19, while Swiggy had lost 2,364 crore. With little competition left, the two companies will find it easier to collude and raise prices. While this will help their bottom line, and perhaps finally put them on the path to profitability, Indian consumers and restaurant owners are likely to be considerably less thrilled. Lesser competition among delivery apps will enable both Zomato and Swiggy to raise commissions at restaurants. It will also mean lesser choice for Indian consumers — there's one fewer app to choose from while ordering food — and in all probability, increased prices as well.