After trying out discounts, cashbacks, and offers, Indian companies seem to have finally settled on what will retain the fickle Indian customer — loyalty programs.
Zomato has become the latest Indian startup to launch its own loyalty program. Called Piggybank, it will essentially provide members with a 10% discount when they order from select restaurants on Zomato. For each order they make on Zomato at any restaurant, members will receive 10% of the order value in their "piggy banks" in something called Z Coins. They can then redeem their Z Coins for future orders on select restaurants. Customers will accrue Z Coins even if they pay for orders with their collected Z Coins.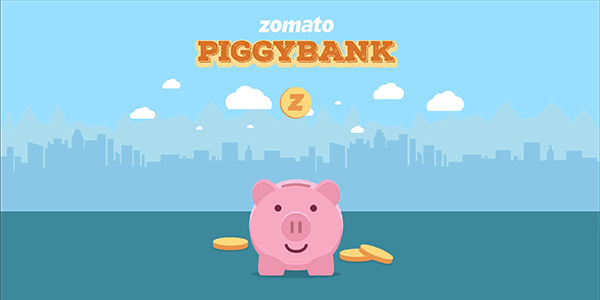 Zomato Piggybank and Z Coins
"Z Coins" makes the whole scheme sound like something out of a blockchain conference, but the concept is very simple — Zomato will give its loyal users a 10% discount when they order from a selection of restaurants, over and above any other discounts that might be running  on its platform. The company says it's currently rolled out the service to loyal 10,000 users who've been given early access to Piggybank. These users have also got a initial bonus of 200 Z Coins. Zomato says it will soon extend Piggybank to users who place more than 5 orders a month on the service. Users can also become members of Piggybank by being referred by an existing user, and Zomato Gold users also get an early access to Piggybank by default.
But Zomato says Piggybank won't be free for long. "In two months, we'll be converting it into a paid subscription program at ₹299 per year (inspired by Amazon Prime)," says a post on its blog. Zomato is making no bones about the fact that the idea is inspired by Amazon Prime, and it's likely that Piggybank has similar goals. Zomato knows it's now competing against Swiggy and Foodpanda for dominance in India's food ordering space. Both these companies are well-funded — Swiggy recently became a unicorn after raising $210 million, and Foodpanda also has deep pockets after being acquired by existing unicorn Ola. Instead of fighting with these companies with discounts on every order, Zomato is giving a blanket 10% discount on all orders to its loyal customers, hoping that they'll stick to its app and not stray to the competition.
But users who're already spoiled by Zomato's previous offerings might not be particularly enthused about a 10% discount on their orders. Zomato Gold, for instance, provides one dish free with another dish, or 2 drinks free with 2 drinks, essentially giving users a 50% discount on their in-restaurant orders. Zomato Treats, too, gives user a free dessert when they order from select restaurants, which almost always ends up being more than 10% of the order values. A 10% discount through Zomato Piggybank, in comparison, doesn't seem particularly mouth watering.
Zomato Piggybank, though, could prove valuable for users who order most of their meals through Zomato. A 10% discount on all their orders could result in significant savings per month. Zomato's also been clever with its marketing around Piggybank — with the introduction of Z Coins, Zomato's given users something to talk about and something to collect. While in principle they aren't different from a cashback, Z Coins do sound cooler than a cashback (or even Mobikwik's supercash), and could help generate some initial buzz.
And loyalty programs do seem to be the way to go for Indian startups. After Amazon Prime, Flipkart and Snapdeal have launched their own versions, and even other industries are following suit. MakeMyTrip has something called MMT Double Black which provides users with free cancellations, and in the movie ticket business, Paytm has brought out something called Paytm Movie Pass which gives users discounts when they regularly book movies through its service. The Indian consumer has proven to be fickle, flitting from service to service whenever he saw the best discounts. Indian companies are now hoping that loyalty programs, with their associated discounts, might be finally used to tie them down.