Jubilant Foodworks is best known for running the Domino's brand in India, but it's rapidly expanding into other kinds of cuisines.
Jubilant FoodWorks has said that it'll invest Rs. 92 crore to buy a 10.76 percent stake in the Barbeque Nation chain of restaurants. "The company will acquire 36,50,794 fully paid-up equity shares of face value of ₹5 each aggregating to 10.76% stake in Barbecue Nation Hospitality Limited (BNHL)," Jubilant said in a regulatory filing. The all-cash deal is expected to conclude by 25 January.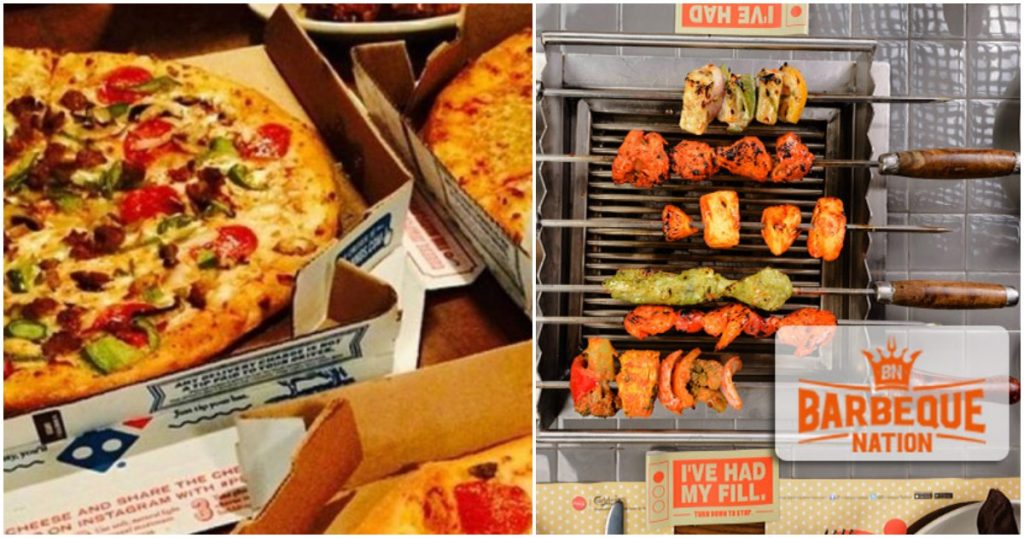 "We are happy to announce our investment in Barbeque Nation, a differentiated, casual dining restaurant brand of scale with strong unit economics. We are confident that the proposed investment will create value for our shareholders," a statement by Shyam S. Bhartia, chairman, and Hari S. Bhartia, co-chairman, Jubilant Foodworks said.
Over the last few years, Jubilant Foodworks has been expanding outside its core pizza offering of Domino's Pizza. The company already runs Dunkin Donuts in India, and had launched casual Chinese dining brand Hong's Kitchen last year. After Covid had hit, it had forayed into the ready-to-cook sauces, gravies, and pastes market under the ChefBoss brand. A few weeks ago, Jubilant had also announced a new biryani brand called Ekdum, which would operate restaurants and also do deliveries.
Barbeque Nation, for its part, has 138 restaurants that offer over-the-table barbeque live grills for diners in 73 cities across India, and seven restaurants overseas. It also has a presence in the Italian cuisine segment under the brand, Toscano.
It's not a worst time to pick up a stake in a restaurant chain — the coronavirus pandemic has meant that most restaurants have been shut for an extended period, and it's likely that Jubilant has managed to get an attractive price for Barbecue Nation. But with the vaccine around the corner, restaurants could well see footfalls go back to normal in the foreseeable future. Also, with many companies perhaps continuing to work from home even after the pandemic is over, the demand for places for teammates to bond with one another could increase, and this is where Barbecue Nation could really come into its own — the chain was already popular with office teams, and could see that aspect of its business pick up over the coming years. And having a sit-down barbecue chain would only add to Jubilant's already-impressive — and rapidly-expanding — portfolio in India.