The post pandemic world has seen many companies let employees work from home, and some startups have even institutionalized moonlighting, but one of the senior-most voices in India's IT industry isn't impressed.
Infosys founder Narayan Murthy has urged young Indians to not fall into the trap of working from home, attending office only thrice a week, or moonlighting, saying that these things wouldn't take them very far. Murthy hinted that these practices came in the way of hard work, and urged young Indians to contribute to nation building by being as productive as possible.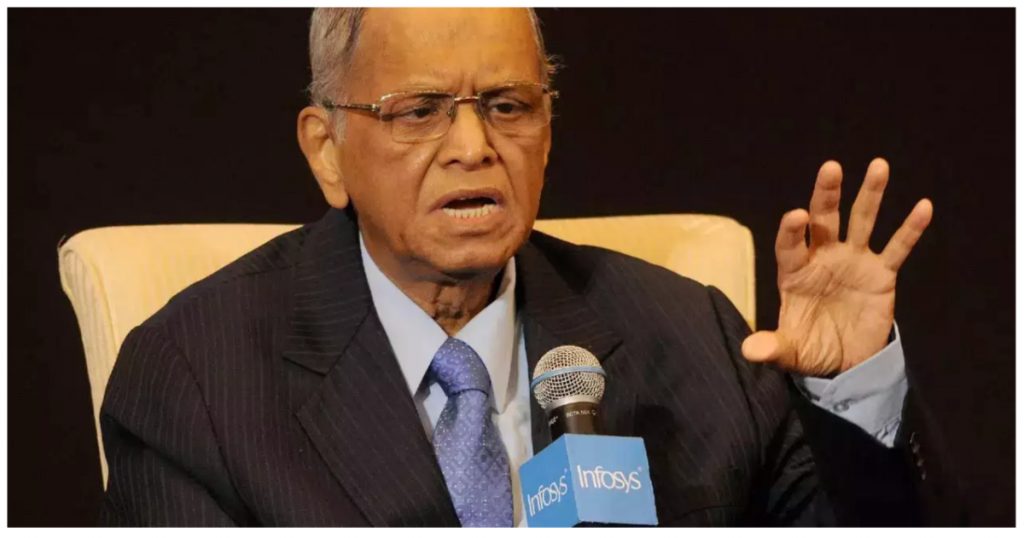 "For the first time in 300 years, the country has tasted some success and we have to consolidate on the little success we have achieved and aim for bigger success," he said at an event. "There is no country in the world which has enhanced its prosperity, achieved economic progress and earned the respect of the world without working hard… Anybody who has told you that work ethics are not important, hard work is not important and laziness is good, they are not your well-wishers," he added.
Murthy told youngsters that the task of building the nation was in their hands, and they should not throw it away, and instead seize the opportunity as this does not come to every generation. It was their time and they should not give up on this extraordinary opportunity to consolidate, try and improve the success of India, for which they would have to work hard and have a certain value system, he said.
Any country that has reached a certain level of prosperity has done so with a level of honesty, discipline, work ethic and pride in the nation, he pointed out. India had to create a culture of good work ethics, discipline, honesty, transparency and high aspiration, Murthy said. The country's culture was the most important ingredient for success and if this was achieved, economic growth would be child's play,
Murthy's comments come at a time when several IT companies, including Infosys, have issued curbs on working from home and moonlighting. Wipro Chairman Rishad Premji had said that moonlighting was "cheating", while Infosys had warned the employees who moonlight could be terminated. TCS meanwhile had called moonlighting an "ethical issue" which was against the company's core values and culture. All three comapnies are also trying to nudge people back into offices, with some mandating a three-day work from office structure.
But while companies have raised ethical issues around moonlighting and work-from-home, former Infosys CEO Narayan Murthy has hinted that these practices wouldn't enable young Indians to work hard and reach their full potential. Murthy might have a point — several CEOs and experts have said that new recruits find it hard to learn from their seniors and peers when they're working from home, which slows down their skill and career development. Murthy has urged young people to attend offices, learn from their colleagues, and do their best for their companies. It's a model that's served Murthy well — he is famous for regularly attending office for decades while building Infosys, and he seems keen to having the next generation of engineers follow the path that led him to become one of India's most celebrated entrepreneurs.