One of India's most controversial business partnerships is coming to an end.
Amazon seller Cloudtail, which was jointly owned by Infosys founder Narayana Murthy's Catamaran Ventures and Amazon, has said that it will cease operations from May 2022. The move was announced hours after the Supreme Court of India asked the Competition Commission of India (CCI) to continue its investigation into Amazon and Flipkart for misusing their dominance in the Indian e-commerce space. Critics of Amazon's model have long alleged that Cloudtail helped Amazon circumvent India's FDI rules around e-commerce.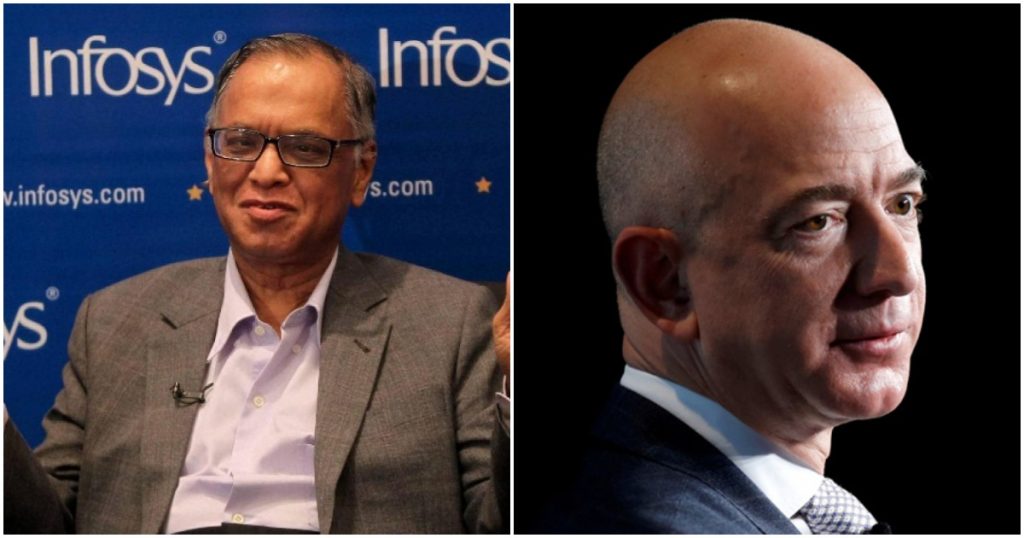 Cloudtail's roots were laid as long as seven years ago — Narayana Murthy's Catamaran Ventures and Amazon had come together to form a Joint Venture in 2014 named Prione Business Services. Amazon owned 49% of Prione Business Services, while Catamaran Ventures owned 51%. Prione Busineses Services then incorporated a fully-owned subsidiary named Cloudtail, which had started off helping smaller sellers sell their products, but soon itself became one of the most prominent sellers on Amazon India. India's FDI laws permit e-commerce companies to only run marketplaces and not own any inventory, but the joint venture with Narayana Murthy's company allegedly allowed Amazon to skirt India's FDI laws by allowing Cloudtail to become a major seller on Amazon's platform.
Even though Amazon was a minority shareholder in Cloudtail, it exercised significant control over the company. "It is no coincidence that the managing directors, CFOs, key persons are (so-called) former employees of Amazon," Indian trade body CAIT had alleged in an open letter earlier this year. "Even the majority of board members of Cloudtail are (so-called) former employees of Amazon. (Even though) Narayana Murthy owns a majority of Cloudtail, the board of directors have Amazon in majority," the letter had claimed. The body had also alleged that Amazon-controlled companies were accounting for 80% of sales on Amazon India in spite of laws not allowing foreign e-commerce companies to sell products directly to consumers.
The rumblings around Cloudtail had grown louder in recent months. In February, Reuters had published a bombshell report by accessing emails between US government officials and Amazon executives, which showed that Amazon had selectively helped a select group of sellers on its platform. The report had also said that two Amazon-controlled entities accounted for 35% of the total sales in India. In June, British newspaper The Guardian had reported that Cloudtail had been hit with a Rs. 56 crore tax demand by Indian authorities. In July, the High Court had dismissed Amazon and Flipkart's pleas to halt CCI's investigations.
Indian sellers had also put pressure on Narayana Murthy to end the partnership. "Mr. Murthy has been in cahoots with Amazon through a name-lending arrangement with Cloudtail acting as a front for Amazon's retail business and defied the objectives of the policies of the Government of India," the Indian Sellers Collective had written in a letter. "Just for a fixed fee or returns, Mr. Murthy has sacrificed the interests and livelihood of millions of small traders in India and left them at the mercy of Amazon."
Amazon and Catamaran Ventures have now decided to part ways, and this signals the end of Cloudtail's operations in India. It has already been reported that Amazon will look to replace Cloudtail with several smaller sellers which will not be controlled by Amazon, and will try to ensure that no one seller becomes unduly influential over the marketplace. But the fact that Amazon was able to seemingly skirt FDI rules for seven long years in spite of local news reports, the attention of international media, and protestations by local traders shows just how much multinational giants with influence can get away with while running their operations in India.