India's e-commerce space was thought be be largely settled — after several years of intense skirmishes, Amazon and Flipkart were the only meaningful players that remained, and together controlled nearly 80% of the country's online shopping market. But if the Indian government has its way, India's e-commerce space could be upended once again.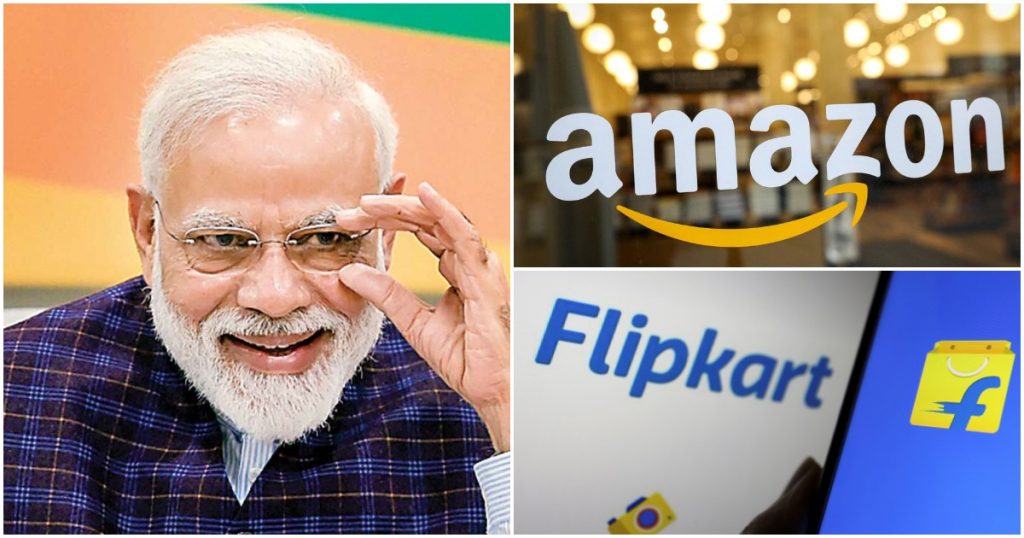 India is set to roll out its ambitious Open Network for Digital Commerce, or ONDC, to select users in five cities next month. ONDC is a non-profit platform where traders and consumers can buy and sell all manner of goods and services. ONDC aims to democratize e-commerce in India, allowing small retailers to simply plug into the platform and immediately access India's online shopping population, its logistics resources, and payment solutions.
"ONDC will enable any service provider or seller to make itself visible to all platforms and will significantly give a boost to the MSME sector," ONDC CEO T. Koshy told Economic Times. "Currently, Paytm, Dunzo, Sellerapp, Gofrugal, GrowthFalcons, eSamudaay and Goodbox are in an advanced stage of integration with ONDC," he added. He added that ONDC was also in talks with over 80 players including Government e Marketplace (GeM), India Post, BHIM, Google Pay, PhonePe, Microsoft, Tally, Zoho, FarEye and the Federation of All Indian IT Associates to scale up operations at national level.
ONDC will enable product makers and retailers to not worry about who's going to bring in logistics and warehousing — they will only need to make the catalogue digitally available, and it would be immediately made visible to consumers. ONDC will help digitise the entire value chain, encourage suppliers' inclusion, systemate operations, derive efficiencies in logistics, and enhance value for consumers.
ONDC will be music to the ears of millions of small Indian retailers, who've long complained of how Amazon and Flipkart abuse their dominance in India. Small retailers have been alleging for years that Amazon and Flipkart have been stealing away marketshare from them through unsustainable discounts. Retailers also complain that Amazon and Flipkart misuse their position as e-commerce platforms, and promote their own brands to the disadvantage of independent brands that are produced by smaller companies. An independent open platform like ONDC could finally unshackle Indian retailers, and enable them to access India's digital market without going through Amazon and Flipkart as intermediaries.
But ONDC will ring alarm bells at the offices of incumbents — Amazon and Flipkart have spent billions of dollars towards becoming India's e-commerce intermediaries. The two American companies have worked hard for nearly a decade, and now control 80% of India's e-commerce space. While e-commerce is currently only 6% of all retail in India, this number is expected to rise in the coming years, and will finally give Amazon and Flipkart their payday for burning billions of dollars into expanding in India. If an open-source platform could allow customers to circumvent them while reaching sellers, it could severely dampen their growth plans in the country.
It won't be all smooth sailing for ONDC though. ONDC will need to ensure that the products on its platform are high-quality, and will also need reviews and ratings for sellers. It will also need to provide similar customer care and after sales services as Amazon and Flipkart, and also provide similar delivery times. ONDC, for its part, intends to increase the gross merchandise value of digital transactions from Rs. 4.5 trillion annually to over Rs 7.5 trillion in the next five years. It also intends to expand the coverage of retailers using digital commerce from 15,000 to more than two million in the next five years.
Now these are ambitious plans, but India has pulled off similarly ambitious digital projects in the recent past. Through Aadhar, India has given a digital identity to 1.3 billion citizens, and through UPI, it has created one of the world's foremost digital payments systems that's now being deployed in foreign nations. These are still early days for ONDC, but given the success of Aadhar and UPI, Amazon and Flipkart will be warily following its progress in the months to come.