Even as Paytm's nightmare at the stock market shows no sign of ending, CEO Vijay Shekhar Sharma has blamed external factors for the stock's poor showing.
Paytm's founder and CEO Vijay Shekhar Sharma has said the company's much-anticipated IPO in November received an underwhelming response primarily because of the timing of the issue and other general market factors that affected fintech firms globally. Talking to Sequoia Capital's managing director Rajan Anandan at the India Digital Summit, Sharma pulled up a dashboard to suggest fintech firms across the globe suffered at the public market during the time. "Globally, we probably went in at a time when Quantitative easing (QE), free money and many other parameters brought a little bit of spook out of the market in terms of pricing," he said.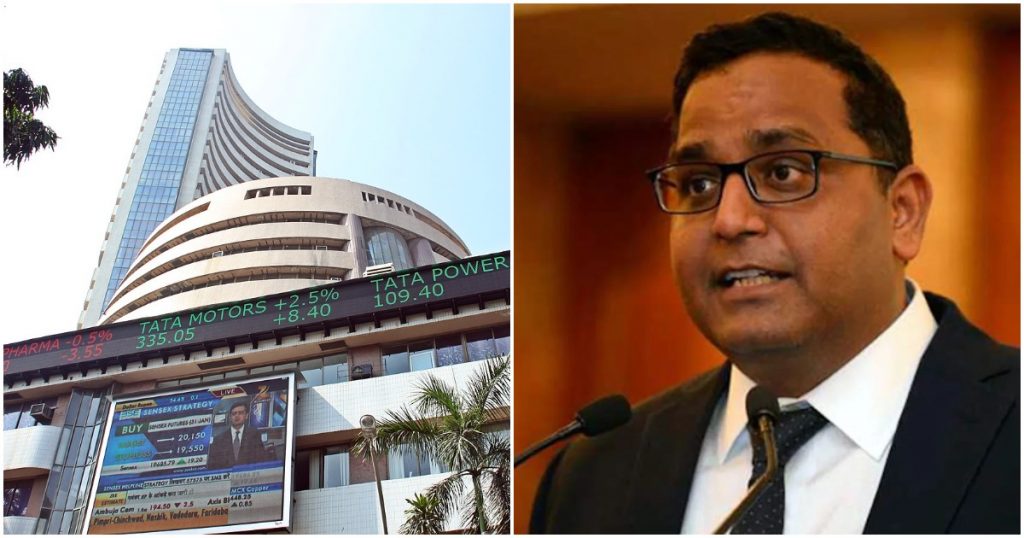 His comments came on a day when Paytm's stock touched yet another lifetime low of Rs. 1075 per share. This represents an exact 50 percent fall in the price of the stock from its IPO price of Rs. 2150. Paytm had earlier had the worst IPO for a major company since 2011, falling 27% on listing day. The stock had briefly tried to rally, but has been consistently falling over the last few weeks, and now trades at around half its IPO price.
But Vijay Shekhar Sharma seemed upbeat about the company's prospects. "I can say this profoundly to everyone our business has never looked better than this, better in terms of scale, better in terms of revenue, better in terms of profits, better in terms of contribution (margin), better in terms of long-term compounding gains," he said.
"We are a payment company. Payment has a derivative revenue line item in financial services, driven by credit. The success of Paytm will be what we do off the monetization led by financial services because payment is a revenue line item which is massively growing. This quarter we are talking in the range of $100 million from payments," he added.
Somewhat strangely, Sharma also said that Paytm needs to be compared to NBFC behemoth Bajaj Finance. "The credit business, we should be benchmarked against only one guy that is Bajaj, and we should be looked at for the scale we deliver in terms of total value and the quality of loans," he added. He went on to claim that Paytm now "does more loans" than Bajaj Finance.
Moneycontrol however reported that Paytm was behind Bajaj Finance in terms of loans disbursed. Paytm had disbursed 4.4 million loans during the December quarter, as compared to 7.4 million loans disbursed by Bajaj Finance. Also, the ticket size of Paytm's loans, which now hovers around Rs. 5000 per loan, is significantly lower than that of Bajaj Finance. Also, the comparison with Bajaj Finance might be moot — Bajaj Finance itself gives out the loans, while Paytm simply ties up with other NBFCs to provide loans and earns a commission in the process.
Several external experts have also expressed reservation about Paytm's stock. Equity analyst firm Macquarie, which had correctly predicted Paytm's stock would fall to Rs. 1200, has now further downgraded its assessment, and said that Paytm's fair price is Rs. 900 a share. Also, HDFC Mutual Fund's Mid-Cap Opportunities Fund has sold off its entire holdings in Paytm stock, while HDFC Balanced Advantage Fund has trimmed its holdings in Paytm by 91%.
All this has meant that Paytm now has a valuation of just $10 billion, which is half of its IPO valuation, and nearly 40 percent below the valuation of $16 at which it had last privately raised funds. This slump in Paytm's valuation isn't only of concern to Paytm's investors, who have now lost around Rs. 70,000 crore in Paytm stock, but also to the broader startup ecosystem as a whole — a halving of Paytm's valuation could put downward pressure on the valuations of hundreds of startups which operate in Paytm's businesses verticals in the coming months.