Is there any industry that Reliance doesn't want to take over?
After disrupting telecom with Jio, and planning to disrupt both broadband internet and DTH television through JioGigaFiber, and setting up a production house to take on Netflix and Amazon Prime Video, Reliance now seems to have its eye set on India's multibillion dollar e-commerce industry. Mukesh Ambabni's Reliance Retail, which has 3,751 stores across 750 cities in India, has ventured into the online sales of smartphones, televisions, refrigerators and air-conditioners, pitting it headlong against Flipkart and Amazon.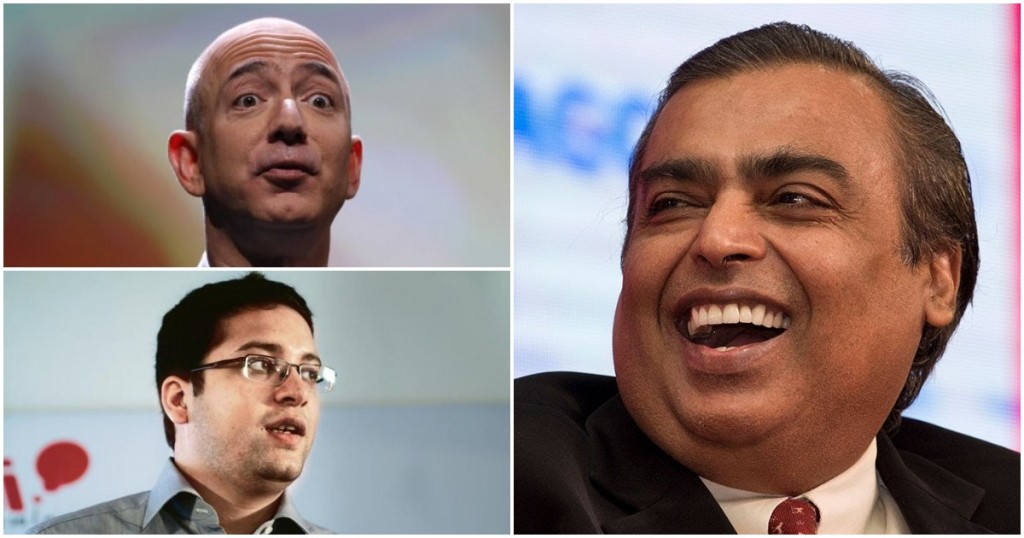 Reliance Retail has launched an online shop front, available at RelianceDigital.in, for its smartphone and electronics arm Reliance Digital. Reliance has been piloting its online store for around a year now, but has now commercially launched operations, a Reliance executive told ET. And much like Amazon and Flipkart, Reliance will look to capture online customers through heavy discounting. "Reliance Digital already has an aggressive pricing for its offline stores which are, at times, even the lowest in the market and top brands like LG, Samsung, Sony, Xiaomi and Panasonic now control most of the online discounts so pricing will be quite competitive with Amazon and Flipkart," the executive said.
The Reliance Retail store
The Reliance Retail store appears to have been up for over a year now, but hasn't been widely promoted by Reliance. We checked it out, and it looks much like other online stores — its layout, in fact, seems inspired by Flipkart with products arranged neatly in horizontal rows. There are broad categories for all variety of electronics, including mobiles, tablets, computers and laptops and TVs. There's also sections for home appliances, personal care and grooming products, and kitchen appliances.

We checked out some of the prices available on Reliance Digital, and the prices, for at least some of the promoted items seem to be cheaper than Flipkart or Amazon. The Bajaj DX4 Dry Iron was available on Reliance Digital for Rs. 629, compared to Rs. 689 on Flipkart and Rs. 780 on Amazon. Some products are the same price across all three platforms — the Samsung Galaxy J7 Nxt phone was priced at the same Rs. 9,490 on Flipkart, Amazon and Reliance Digital. For some items, Reliance Digital was slightly more expensive — the Sony SA-D40 4.1 Channel Speaker was available for Rs. 7,990 on Reliance Digital, but Amazon had it for Rs. 7,768.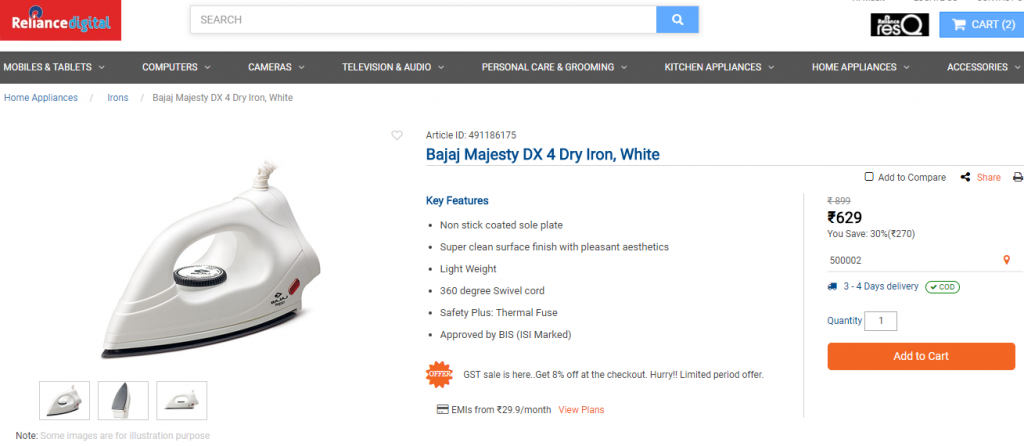 Like Amazon and Flipkart, Reliance Digital seems to accept cash on delivery. On the few pincodes we tried across Delhi, Mumbai, Bangalore and Hyderabad, delievery times ranged between 2-4 business days. Reliance Digital accepts all manner of payments, including Credit cards, debit cards, netbanking, and of course, cash on delivery. Among wallets, Reliance appears to thumb its nose at competition by only giving the option of its own Jio Money wallet.

The storm was long coming
Reliance's e-commerce entry had been long rumoured, but it made perfect sense for the company. Reliance Digital already has an on-ground presence that Flipkart and Amazon would kill for — it has 3,600 stores across India, and already has tie-ups with suppliers and distributors. All it needed to do was to set up an online store, and get its delivery logistics in place. Reliance isn't short of resources, and it seems to have gone ahead and done just that.
Reliance also seems to already have other pieces of the e-commerce puzzle in place. It seems to have created an electronics installation, repair and maintenance arm called resQ, which it claims to make available trained staff 365 days a year between 10 am and 10 pm. It's in areas like these that Reliance will have an edge over the Flipkarts and the Amazons — just last year, Flipkart had purchased an offline phone repair company called F1 Info Solutions. In its e-commerce bid, Reliance has the added advantage of already having a significant offline infrastructure in place, which it can readily call upon to support its online efforts.
Reliance vs Amazon vs Flipkart
Reliance could well pose a serious challenge to the two biggies in the e-commerce space, Flipkart and Amazon. For starters, it's attacked the two incumbents where it's likely to hurt the most — consumer electronics. 60-70% of Amazon's and Flipkart's sales come through sales of electronics including smartphones, and Reliance could slowly chisel away at the markets they've spent so long cultivating. And the threat from Reliance isn't only in electronics — Reliance already has its own fashion portal, Ajio, which isn't aggressively marketing itself or its products at the moment, but could eventually hit at another big category for Amazon and Flipkart — fashion.
And against Reliance, Flipkart and Amazon will find themselves handicapped in using the heavy discounting power they'd used to bully other e-commerce players into submission. Reliance has pockets that are just as deep, if not deeper, than either of these companies, and will be able to match these e-commerce giants blow for blow. Reliance Digital's commercial launch shows that the company believes that the discount wars in the e-commerce space are abating, and now is the time to cash in and make profits.
If Reliance Digital can emerge as a serious competitor to Flipkart and Amazon — and initial signs show that it can — it will be a bit of a coup for the Mukesh Ambani-led conglomerate. For over a decade, Reliance stood by and watched the bloodbath in India's e-commerce space — Flipkart has burned through nearly Rs. 50,000 crore since its inception, and Amazon has put in billions. These companies wooed Indian customers through discounts and offers, and got them used to the e-commerce shopping experience. Several companies, like Snapdeal and ShopClues, tried but fell by the wayside. Now if Reliance can swoop in an calmly take away a share of this market, it will become the biggest story in India's fascinating e-commerce journey — Amazon and Walmart had thought they'd compete within themselves for a slice of India's e-commerce pie, but an Indian company could instead end up eating their lunch.