Reliance Jio is known for many things — it runs India's largest telecom company, it runs a host of apps ranging from news to music streaming services, and it runs India's second largest broadband network. But Jio has now stepped into new territory — movie theatres.
Reliance has opened India's first rooftop drive-in theatre in Mumbai. Dubbed Jio Drive In, the theatre has been built in Jio World Drive, Reliance's plush shopping complex in the Bandra Kurla area. The theatre is being managed by PVR, and began operations today with the screening of Akshay Kumar-starrer Sooryavanshi.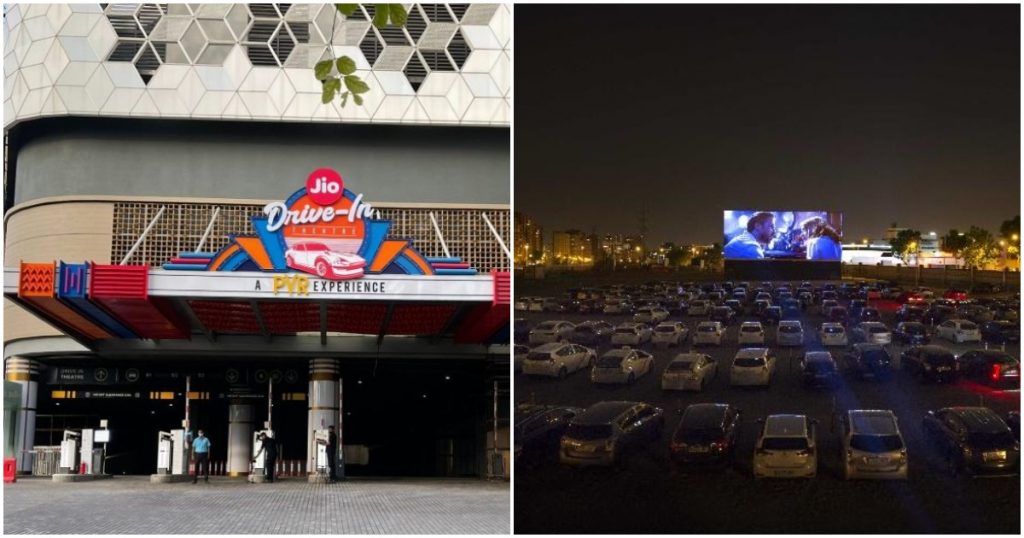 The drive-in theatre accommodates 290 cars, and has a 24 metre X 10 metre screen, which is one of the biggest cinema screens in the country. There are special sound effects too — the theatre provides sound enhancement by broadcasting the soundtrack over FM signal through the car's sound system. The price for a ticket is Rs. 1,200 for a car, and each car can have up to 4 occupants.
The drive-in theatre is a part of the plush Jio World Drive, which is the first mall operated by Reliance in India. The mall spans across 17.5 acres at Bandra Kurla Complex in Mumbai, and houses 72 premium International and Indian brands such as Coach, Emporio Armani, Steve Madden, Gant, Dior, Clinique, Calvin Klein, SuperDry, Michael Kors, among others.
The mall integrates some of Reliance's other retail plays as well. Reliance has opened an ultra-premium gourmet grocery store named Freshpik in the mall, which has specially curated organic food and essential ingredients for international cuisines like Japanese, Italian, Korean, and Thai, breads, ice creams, artisanal cheese, chocolates from local and international producers, and frozen desserts. The mall also has an outlet named Hamley Play, a new concept of a play area by the UK-based toy store Hamley's, which was acquired by Mukesh Ambani two years ago.
It's perhaps no surprise that Reliance has set up a high-end mall — Reliance is already the biggest retailer in India, and it's looking to tap into India's growing number of upwardly mobile consumers who have large disposable incomes. But what's interesting is the branding of the mall — the mall has been named "Jio" World Drive, and the open air theatre is named "Jio" Drive In. Thus far, Jio had been very much Reliance's online and tech brand — Jio ran a telecom company, a broadband service, and a suite of apps. But Reliance now seems to be consciously using the Jio brand on offline initiatives as well, including a mall and a theatre.
And this is a time when offline and online worlds are merging — Facebook has just rebranded to Meta, and will build an online universe where people can interact with one another, and Zoom calls are replacing office meetings. Reliance, too, seems to integrating both its online and offline consumer-facing initiatives under the Jio umbrella. It's yet unclear if Reliance intends to integrate its online Jio universe with the Jio World Drive and the Jio Drive-In theatre just yet, but the way things are going, it's quite likely that some sort of synergies between the offline and online 'Jio's might be realized going forward.