Reliance has been targeting the luxury consumer market through tie ups with upscale designers like Manish Malhotra and building the swanky JioWorld mall, but it's also courting products from the other end of the spectrum.
Reliance Retail is entering the Indian artefacts business, ET reports. The company will set up a series of artisan-centric shops under the "Swadesh" brand. 'Swadesh' will showcase artisanal products, including agriculture and food items, handloom, clothing, textiles, handicrafts and handmade natural products.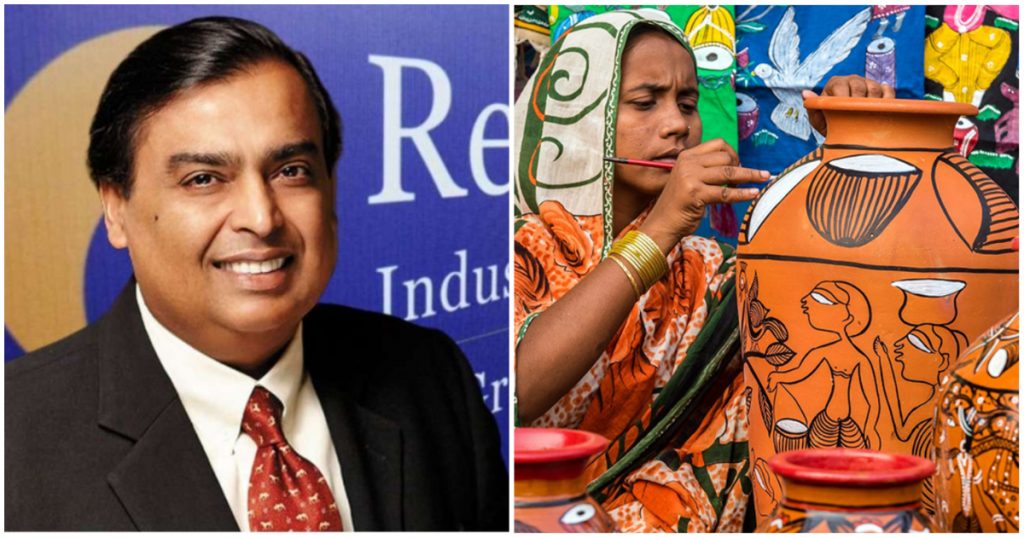 The first Swadesh store will come up in Delhi's Connaught Place area. Reliance has reportedly already leased 30,000 sq ft of space in E block of the complex, which is one of the costliest retail locations in the country.
Reliance has already put plans in motion to stock its Swadesh stores — the company is partnering with the state governments to promote artisanal products and also take 'Swadesh' global. It has already signed an agreement with the West Bengal government. The company has also signed an agreement with the textiles ministry, which will enable the sourcing of 100% authentic products directly from the artisans.
Reliance has been entered some unconventional business sectors in the recent past. This Diwali, it had partnered with 50 traditional mithai makers in India to help them take on chocolate multinationals like Nestle. There are parallels between Swadesh and the mithai move — both industries are largely fragmented, and have no major brands. Both industries also don't have the marketing heft to take on global players. Reliance hopes that it can enter these overlooked sectors, help organize operations, and create big businesses for itself in the process.
And Reliance is probably best-positioned to take on projects like these. Reliance is India's biggest retailer and also runs an e-commerce platform in Jiomart, and can use its retail empire to push products from these new initiatives. Reliance also has deep pockets, and can afford to have the perseverance and the long time horizon that such projects would demand. And Reliance will want to help out millions of traditional artisans — helping them find new markets and raising their incomes will fit nicely into its CSR initiatives. India's traditional handicrafts industry has been floundering through long decades of socialism — it might just take a capitalist to bring it springing back to life.