In spite of thermal incidents and controveries, electric two-wheeler sales in India continue to motor along.
India's two-wheeler EV sales rose nearly 10% month-on-month in June 2022. In May, the top 8 two-wheeler EV companies had sold 35,212 units. This number rose to 38,693 units in June, a rise of 3,481 units month-on-month.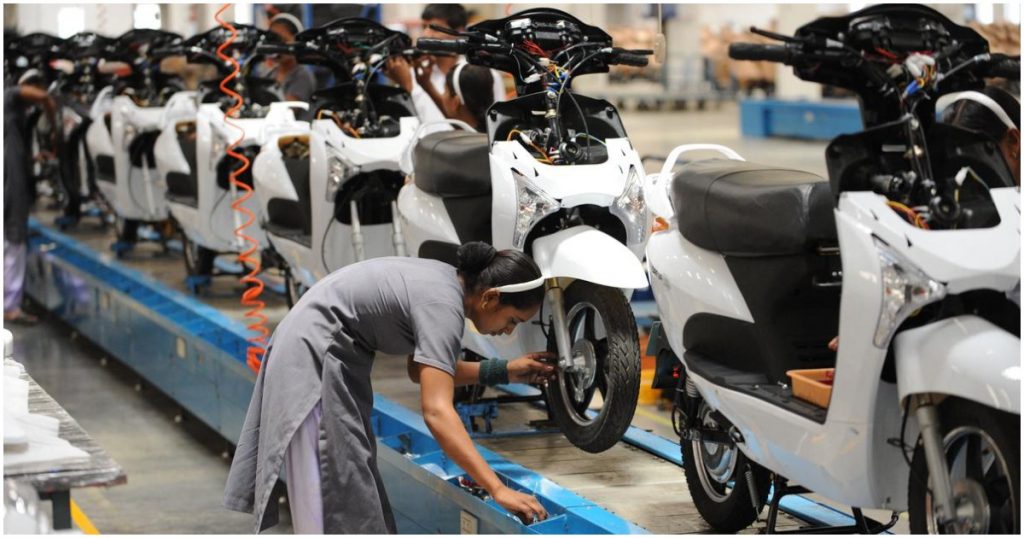 Okinawa maintained its top position in June, selling 6,976 units compared to 8,888 units in May. Okinawa's sales fell 21% month-on-month, but the company managed to retain the top spot. At second position was Ampere, which was third last month, with 6,534 sales, an 18% rise over the previous month. Hero Electric rose from 5th place to 3rd place this month with 6,486 sales, a smart 136% rise over the previous month. Hero had seen its sales plummet last month over the semiconductor chip shortage, but saw its sales recover strongly in June. Ola Electric, which was placed second last month, however fell to fourth spot in June with a 34% fall in sales month-on-month.
TVS was at 5th position, with its wholesale sales rising 77% over last month to 4,667 units. It was followed by Ather, which fell from 4th position last month to 6th position in June, and had 3,098 sales. Micromax co-founder Rahul Sharma's new venture Revolt was 7th with 2,419 units, while Joy eBikes had 2,125 sales.
However, an overall 10% rise in EV sales is something the industry will take, especially given the bad press of the last few months. Since the beginning of this year, scores of electric vehicles belonging to prominent brands including Ola, Okinawa, Pure EV and even Ather have caught fire. Several people have also been killed after their electric vehicles unexpectedly exploded when they were charging them in their homes. Companies like Okinawa, Ola and Pure EV have also recalled vehicles to check for defects.
Meanwhile, the industry has been hit with allegations and counter-allegations — Ather's CEO has said that most battery packs being used in Indian electric two-wheelers weren't even suited for Indian conditions, and Bajaj's CEO Rajiv Bajaj has gone a step further, saying that inexperienced companies who have no business to be building EVs were trying to enter the market. Ola CEO Bhavish Aggarwal, for his part, appeared to justify the fire incidents in electric two wheelers by sharing a video of a Tata Nexon EV catching fire, and claiming that electric vehicle fires "will happen."
Amidst all this, Indian consumers appear to be — for now — be putting their faith in electric vehicles. This is perhaps aided by the high fuel prices, and also by the high-voltage marketing campaigns that are being run by some electric vehicle players. But while many Indians seem to be braving the risks and opting to purchase EVs, the industry would do well to repay this trust and deliver on its promises — a less than satisfactory experience among the initial set of customers could set the entire EV space back by several years.