Byju's has now acquired so many education startups that it could well start its own board to rival CBSE and ICSE.
Byju's has acquired online test preparation startup Gradeup to bolster its presence in the online competitive examination preparation category. The acquisition will help BYJU's harness Gradeup's student reach, the company said. Byju's has already rebranded Gradeup as Byju's Exam Prep, and will cater to students preparing for 150+ exams over 25 exam categories covering Govt Jobs and PG Entrance Exams such as IAS, GATE, CAT, Bank PO/Clerk, Defence, UGC-NET, etc.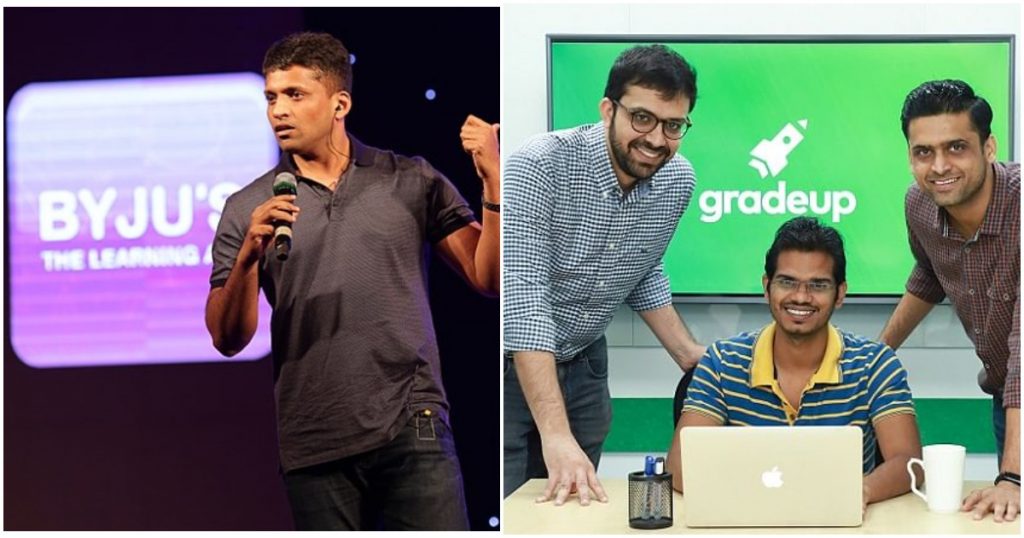 "Our focus has always been on ensuring that every learner has access to the highest quality of teachers and content to help them learn better," said Byju's CEO Byju Raveendran. "With Gradeup on board, we will be able to further scale and expand our test-prep offerings in postgraduate level exams. Gradeup has already proved its mettle and we are excited to join forces with the seasoned team. We aim to bring our complementary strengths and expertise together to create engaging and personalised learning experiences," he added.
"By combining live classes, assessments, and quality study material, we have built a highly specialised offering for students preparing for competitive exams," said Gradeup CEO Shobhit Bhatnagar. "Together with BYJU'S, we will accelerate our growth and expand our reach across the country. Further, we will leverage their strengths in content to deepen our current product offering and broaden our coverage of exams," he added.
Gradeup was founded in 2015 by Sanjeev Kumar, Shobhit Bhatnagar and Vibhu Bhushan to help students with their exam preparation. The company focused on a clean and simple UI and word of mouth marketing to get its initial set of users. Gradeup had raised $10 million (Rs. 70 crore) over the last 6 years, and claims to have 3 crore students.
With the addition of Gradeup, Byju's now has portfolio of companies that sprawls India's entire education space. For young children, Byju's runs WhiteHat Jr, which helps kids learn to code, Osmo, which develops learning games for children aged 3-8, and Epic, which helps children under the ages of 12 to start reading books. For school children, Byju's has acquired learning platform Toppr. To help high school children prepare for competitive exams, Byju's has acquired offline coaching company Akash Educational services. For working professionals, Byju's has acquired upskilling platform Great Learning. Apart from all these acquisitions, Byju's runs its own courses for schoolchildren.
It's an extraordinary portfolio to have, and shows how Byju's wants to have a role in all kinds of education a person receives over their lifetime, right from when they're a toddler learning to read to when they become professionals and need upskilling courses. There are obvious benefits to such an approach — a child who signs up for a Byju's course could well becomes a Byju's customer for life, and earn the company an astonishing amount of money through their lifetimes. All these acquisitions haven't come cheap — Byju's recorded losses of Rs. 262 crore last year as it spent heavily on acquiring all kinds of companies — but education will inevitably move online over the next few decades, and Byju's has the potential of capturing a massive slice of the industry with its aggressive bets.