Zomato used to help people order food — it'll now help people burn it off as well.
Fitness startup Curefit has become India's latest unicorn after an investment from Zomato. Zomato has acquired a 6.4% stake in Curefit, valuing it at $1.5 billion. The investment makes Curefit India's 36th unicorn startup of 2021.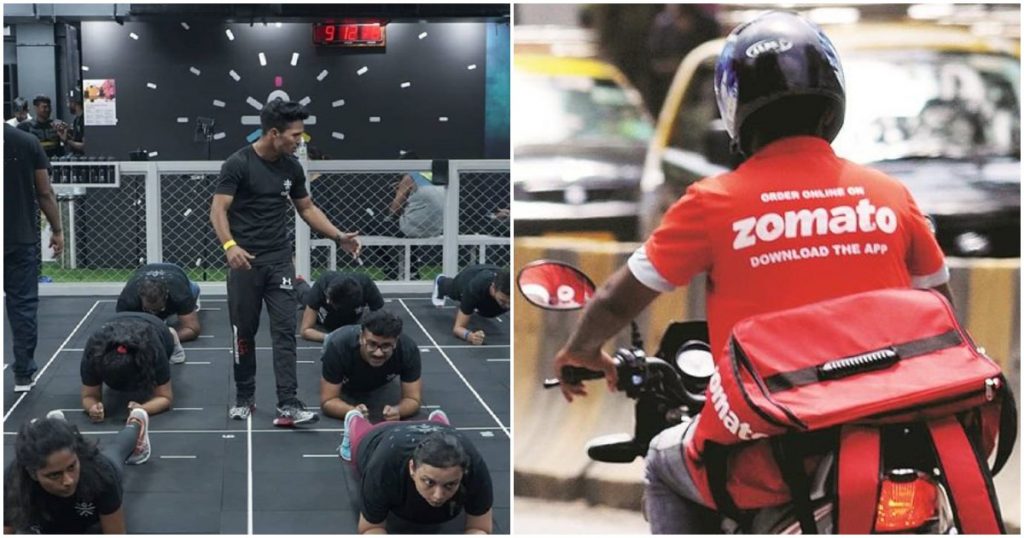 In addition to investing in Curefit, Zomato is simultaneously selling sports facilities provider Fitso to Curefit — as a part of the deal, Curefit will acquire Fitso from Zomato. Zomato had acquired Fitso in January this year for Rs. 80-100 crore, but now seems to have sold it to Curefit for Rs. 370 crore. "In order to cultivate a great long-term partnership with Curefit, we are also investing cash in Curefit," said Zomato CEO Deepiner Goyal. "Net $50 million cash investment plus value of the Fitso business (worth $50 million) will give us a cumulative shareholding worth $100 million in Curefit (6.4% shareholding in Curefit). This will help us potentially explore cross-selling benefits between Zomato and Curefit, as we see food and health becoming the same side of the coin in the long term," he added.
Zomato said that it had sold Fitso to Curefit because it felt Curefit would be able to derive more value out of the business. "Can we sell the business to someone for whom it is core, and can they realise disproportionate returns from what we have built? Is the divestment process worth the value that we will realise from the divestment? Fitso checked these boxes on divestment and we are in the process of selling Fitso to Curefit for $50 million," he added.
Curefit had been founded by Flipkart executives Mukesh Bansal and Ankit Nagori in 2016, after the duo had together quit Flipkart to start their own venture. Curefit runs a chain of fitness centers in major Indian cities, where it conducts classes on yoga, dance fitness, strength training, high-intensity training, Crossfit, and even a workout designed in collaboration with Hrithik Roshan named HRX. Curefit had expanded into other wellness initiatives, including food delivery with Eat.fit, health checkups, and online fitness classes.
In 2020, Curefit had hived off Eat.fit as a separate entity, and it is now being overseen by Ankit Nagori. Curefit had continued to be helmed by Mukesh Bansal, until the company had raised funding from the Tata Group. Following the funding, Mukesh Bansal had been tasked with heading the Tata group's digital initiatives.
Zomato says that food and health will become the "same side of the coin" going forward, and the two companies could possibly cross promote their products amongst each others' userbases. But what's striking about this investment is that neither the investing company or the investee company have ever made a profit in their history — Zomato has reported losses of Rs. 816 crore in FY21, while Curefit had reported losses of Rs. 741 crore in FY20. Zomato's diversification into a fitness startup is also strange given the company's recent moves. In the recent past, Zomato has been shutting down businesses that seemed to be outside its core restaurant search and food delivery business in India — Zomato has shut down several of its subsidiaries abroad, and had also shut down its health supplements delivery business and its grocery delivery business. But Zomato now seems to have gone ahead and invested $100 million into a startup that isn't directly in the food or delivery space.
Regardless, the investment has catapulted Curefit into the unicorn club, and is yet another success story for second-time entrepreneurs in India. Kunal Shah had previously sold Freecharge to Snapdeal, and his next venture Cred has entered unicorn club; now Mukesh Bansal, who had previously sold Myntra to Flipkart, has helped Curefit enter the unicorn club as well. As far as creating successful startups is concerned, Indian entrepreneurs are showing that lightening can indeed strike twice.