From claiming to be disruptors, to becoming the most disrupted, businesses have had to respond quickly to the challenges posed by the Coronavirus pandemic.  Some Indian startups have been affected more than the others, and some have responded better than the others. These companies have bent their business models, unlearnt everything, looked beyond their core product, and come up with new income streams and ways of staying relevant and staying afloat.  While most Indian startups are needing to resort to extreme cost cutting measures by instituting huge paycuts and layoffs and appealing their users to chip in, they're also coming up with ways to find new ways to leverage their resources.
The Indian railways repurposed their defunct trains to turn them into isolation wards, Indian Post office started Post Offices on Wheels, and hotels and army hostels have turned into quarantine institutions.  Call it the 'Jugaad' ingrained in Indian culture or a "pivot or perish" situation, Indian companies across the board have stepped up.
Here's the top 5 examples of Indian startups that have adapted to the coronavirus crisis and offered new product market fits for a covid19-ravaged world.
1. Curefit offering virtual live workout sessions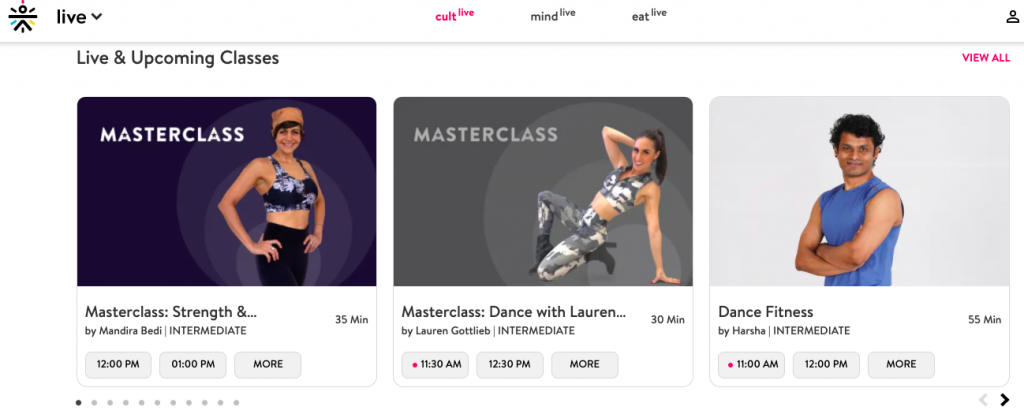 The 500+ physical fitness centres run by the health and fitness startup across the country have all but indefinitely shuttered and Curefit had to let go of over 800 employees in the face of its business brutally hit by the outbreak. But the company was also one of the first in its category to promptly launch its virtual fitness classes on the app. Even before there was an official lockdown in place, Curefit started its live sessions across its core offering of yoga, dance, strength and fitness workouts. The sessions are 30-50 minutes long and are offered by Cult's own trainers as well as guest celebrities like Jacqueline Fernandes, Mandira Bedi, Nora Fatehi, and more.  While the prospect of group fitness remains a distant dream in the times of Covid19, the live sessions have been well-received by its members  and the company's now offering even paid subscription its live sessions to non members.
2. Zomato And Swiggy offering groceries/alcohol delivery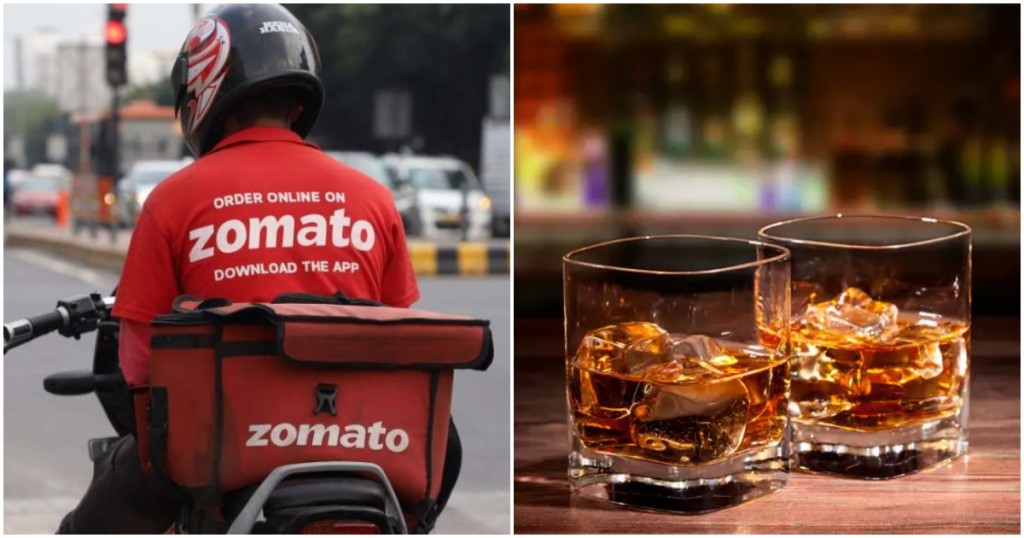 The food delivery business is hit hard, revenues are down by 60-70% in both companies, both Zomato and Swiggy have announced massive layoffs. But both the companies have also been quick to recognise the need of the hour – online grocery deliveries – and started offering them within days of start of the official lockdown in March.  While Swiggy had started grocery deliveries even before the Coronavirus outbreak, Zomato announced the offering within days of the lockdown.  It has partnered with grocery delivery startup Grofers, and is also using its own network of delivery personnel to pickup and deliver groceries from local stores listed on its app. Grofers itself has partnered with various offline retailers to leverage its workforce and deliver groceries from them to its users.
Besides delivery of groceries, both Zomato and Swiggy are now delivering alcohol in states where the government has allowed online delivery of alcohol, and hence opened up another avenue to leverage their delivery personnel and their large userbase to stay afloat.
3. BookMyshow/MyScoot offering virtual events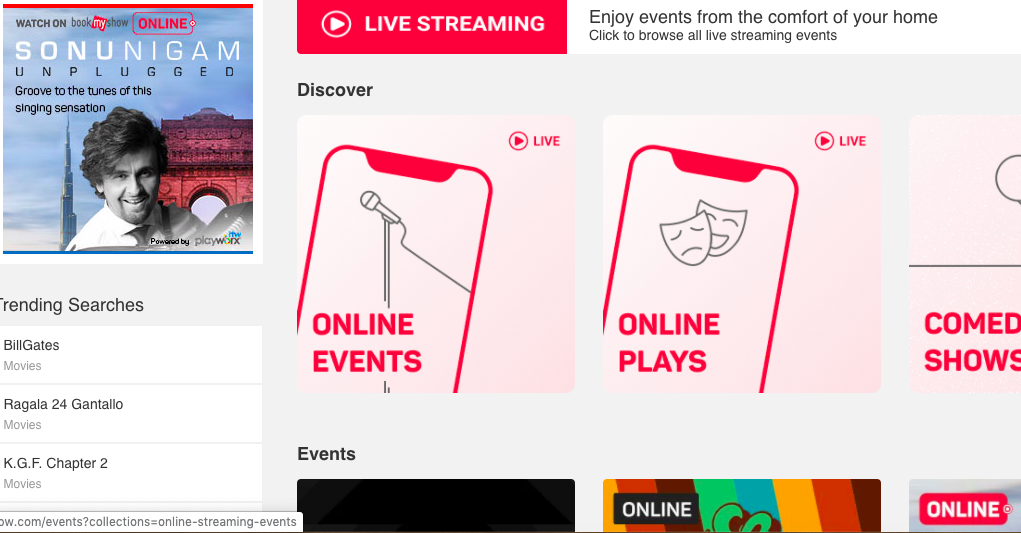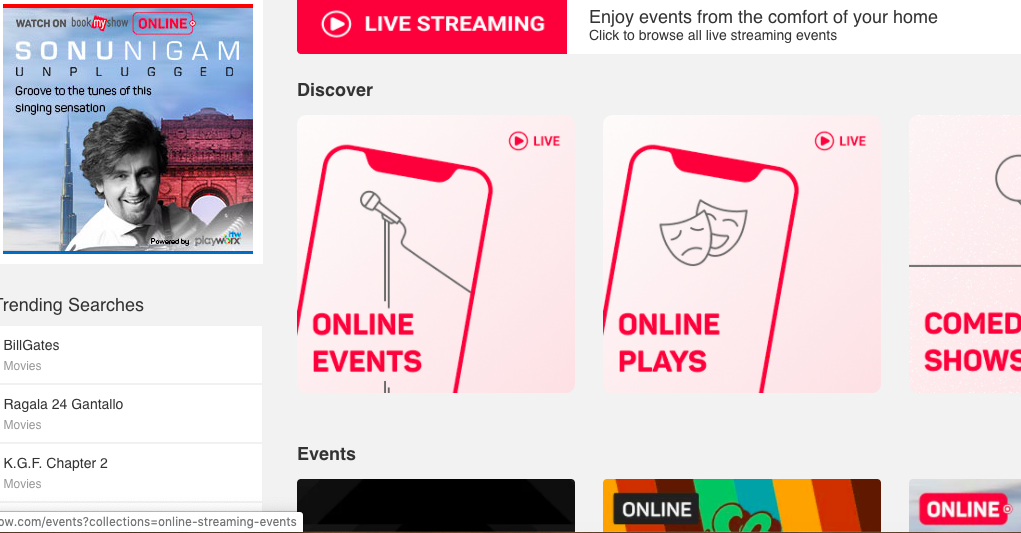 Another company who faces an uncertain future thanks to the coronavirus is BookMyShow for whom business means – large gatherings of people in a closed space – an unthinkable idea as long as the threat of infection looms large. However BookMyshow rose to the challenge and immediately started offering virtual events as early as April. The site currently has upto 20 virtual concerts and workshops listed on its platform, of which some are free while some go for as much as Rs 1000 for a session. House party and event aggregator startup MyScoot has also been setting up virtual gigs, casual meetups, and storytelling sessions through its platform.
4. Redbus offering private buses and vans for hire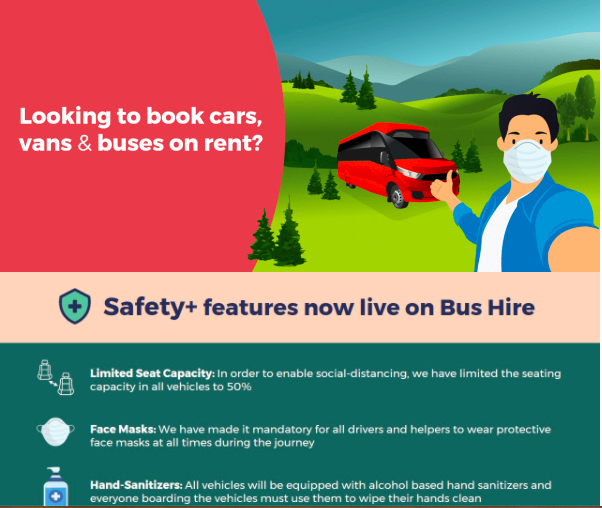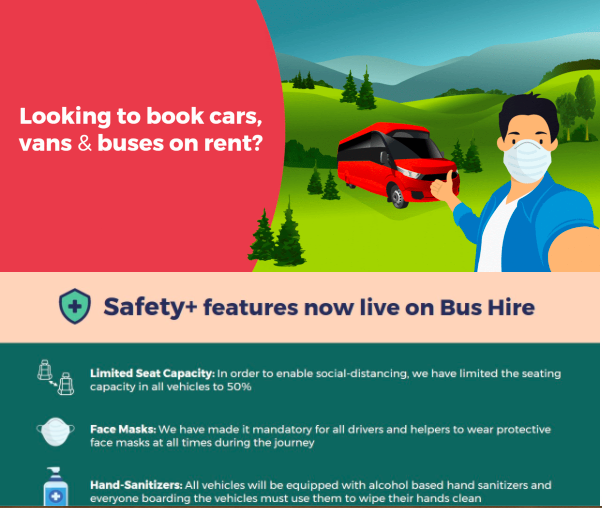 The inter-city bus booking company could arguably be one of the worst-hits during the pandemic. With travel restrictions in place for the past 2 months, and no leisure or business travel on the anvil for the next few months, Redbus' booking platform has taken a beating. RedBus has responded to the challenge and is now offering private buses and vans available for hire. The idea probably stems from the assumption that people – families and close group of friends – that know each other can still travel across cities, rather than be caged up with a bunch of strangers with no idea of their past whereabouts. The buses are sanitisized, will have limited seat capacity, and come with hand sanitisers, masks and gloves to pass the required covid19 safety standards.
5. Non medical equipment companies offering masks
Many home decor and accessory brands are now offering masks. Chumbak is selling them in its signature quirky prints, home decor company Jaypore is offering them in handloom prints, and many other Indie boutiques and brands are coming up with their own versions too. At a time when supply chains are disrupted, businesses have moved online, these are the companies that have kept their responsiveness, and their sewing machines running and offered the one product that's the need of the hour.
Good entrepreneurship is nothing if not for its resilience and being adaptable to change, and the companies that have something to show for the two during this unprecedented crisis will be the ones that emerge out of it.