Ola's electric revolution isn't quite going as planned.
An Ola customer in Maharashtra is using a donkey to drag his brand new Ola S1 Pro around town, alleging that the scooter doesn't work and the company is ignoring his complaints. The man, Sachin Gitte, hails from the Beed district in Maharashtra, and says that the scooter stopped working 6 days after he'd purchased it. He claims that he hasn't received a response from the company in spite of many attempts of getting it replaced.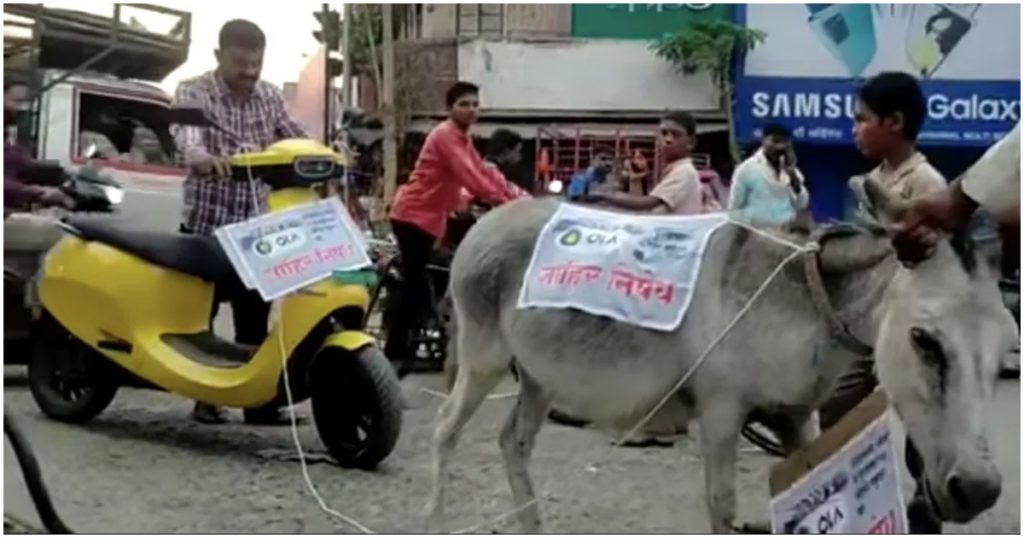 Frustrated, Gitte now has decided to tie a donkey to his Ola Electric S1 Pro scooter, and is dragging it around the town of Parli in Maharashtra. Both the scooter and donkey are festooned with banners which ask people to not buy the Ola scooter, and attract a curious crowd of onlookers where ever they go. "There is no financial protection for consumers from Ola company, which deals in thousands of crores of rupees," Gitte alleges.
Gitte had booked the scooter all the way back in September 2021, and received his S1 Pro after a six month wait in March. But within six days of delivery, Gitte alleges that the scooter stopped working. Gitte contacted Ola, following which the company sent a mechanic to check the issue. The mechanic, however, was unable to fix the scooter, and the scooter has not been functional since.
While his protest against the company might be the most unique, Gitte is hardly the only Ola customer who's unhappy with the scooter they've received. Social media has been chock-full of complaints from Ola buyers, with complaints ranging from panel gaps in scooters, delayed delivery times, lower range than Ola had initially promised, scooters that unexpectedly accelerated, and complaints around scooters with missing features.
But these complaints might seem relatively trivial compared to what's happening with other Ola scooters. A customer in Guwahati had recently alleged that his Ola scooter had spontaneously accelerated, and caused grievous injuries to the rider. Another Ola S1 Pro had spontaneously caught fire in Pune while it was parked, and had been reduced to a charred heap in minutes. After the government had instituted an enquiry, and Roads and Highways Minister Minister Nitin Gadkari had said that companies that were found to be negligent in producing their electric scooters would be penalized, Ola had said it was voluntarily recalling 1,441 scooters from the same batch as the one which had exploded. And while Ola might be finally taking steps to fix its scooters, the fact that its scooters are being dragged across cities by donkeys shows that the company might not have quite had a ready product when it had embarked on its glitzy electric scooter marketing campaign last year.