India's grocery delivery has been abuzz of late — Swiggy had set the ball rolling by announcing 15-30 minute deliveries, following which Grofers had said that it would deliver groceries in under 10 minutes. Meanwhile, 6-month-old grocery delivery startup Zepto has raised $60 million at a valuation of $225 million on the promise of 10-minute grocery deliveries, and says its current median delivery time is 8 minutes and 47 seconds. Amidst all this activity, an unlikely player has — once again — thrown its hat into India's grocery delivery ring.
Ride hailing company Ola has launched something called Ola Store, through which it will quickly deliver groceries, pet supplies, and personal care products to consumers. The service is currently being piloted in Bangalore, and promises to deliver groceries in 30 minutes. Ola Store is available as an option on Ola's app home screen for users in select localities.
"Groceries at your doorstep in under 30 minutes," Ola says under its Store option. "Be it fresh fruits and veggies or cleaning items, get it all delivered in less than half an hour," it adds. Clicking on Ola Store leads users to a familiar screen where they can pick between grocery categories. Ola seems to have a wide variety of categories available, including grains, oil, masalas, instant food, snacks and beverages and others. Unlike say Dunzo, which picks up orders from physical stores, Ola seems to have its own dark stores which it uses fulfil orders. The delivery times seem impressive at first glance — at our location, Ola was promising deliveries in 15 minutes.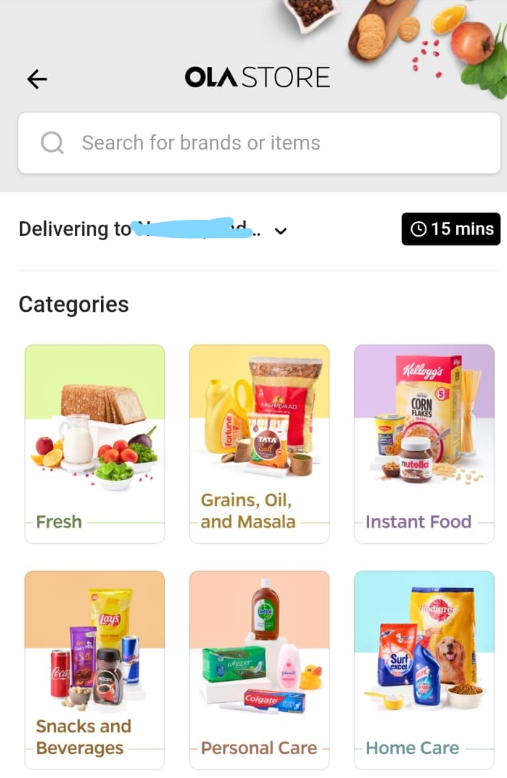 This isn't the first time that Ola, which is best known for its ride hailing service, has ventured into the grocery delivery space. All the way back in 2015, Ola had launched grocery deliveries under the same Ola Store brand, and had promised deliveries in 1-hour delivery slots. At that point, Ola had tied up with retail chains including PNP Retail, Topintown, and Namdhari's Fresh to fulfil orders. But the experiment hadn't quite worked — a year later, in 2016, Ola had shut down the service.
And it's not only grocery delivery that Ola seems to be venturing into. Ola's home screen now almost looks as though the company has super-app ambitions — Ola now delivers groceries through Ola Store, runs a host of cloud kitchen brands under Ola Food, and even allows people to buy pre-used cars under Ola Cars. Apart from this, Ola has embarked on an ambitious electric scooter initiative, through which it's set up the world's largest scooter factory, and has taken bookings for thousands of electric scooters.
These are all significant initiatives in their own right, but it's hard to see the larger strategy that Ola is employing — used cars operate in a completely different vertical as food, and grocery deliveries have very little to do with manufacturing electric scooters. Also, it's not as though these are virgin territories — Ola faces significant competition from other startups in all these new verticals. Ola sure seems to have its finger in a lot of pies, but it remains to be seen if it can make a significant impact in many of them.