Oyo doesn't seem to be content with setting up hotels all over the world — it's now looking to enter into the foodtech space.
Oyo has listed restaurants on major food delivery platforms in Bangalore and Gurgaon, Entrackr reports. The restaurants are called Adraq by OYO and O Biryani by OYO, and provide a wide variety of cuisines including Indian, Mughlai, Chinese, and continental, among others. The restaurants are listed on Swiggy, Zomato and UberEats.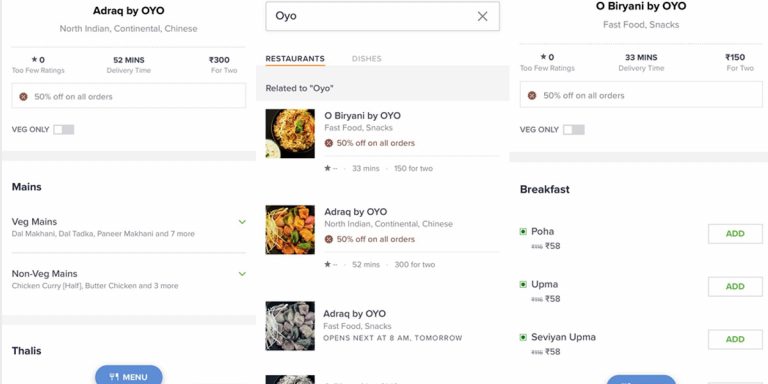 This doesn't mean that you can walk into an Oyo-branded restaurant anytime soon — the restaurants operate as cloud kitchens, and are delivery-only at the moment. But Oyo's clearly serious about the initiative — it's chosen to brand the restaurants "by Oyo", which would mean that this is more than just a pilot."OYO's involvement is not limited to being a distribution partner or just providing the infrastructure. The kitchens are fully operated by the company," two sources said.
Oyo, though, hasn't made a public announcement of the initiative thus far. "As the largest hotel chain in India, operating franchised and lease assets, we do have an active play in the F&B business with an average of about 25% of our revenue coming through the kitchens we operate in our some of our hotels and hence culinary design and good food experience are valuable to us. We have nothing further to announce at the moment," said OYO Spokesperson in an email response.
It's a pretty interesting move from Oyo, which is already operating geographically at a breakneck pace. Oyo now has operations in countries like China, Nepal, Malaysia, UK, the US, Japan and even Saudi Arabia, and is appears to be looking to quickly become a global hotel chain. But at the same time, it's moving outside its core hotel business in India — it runs Oyo Townhouse, which is focused at millennial travelers, and also Oyo Living, which provides long-term rentals.
A move into foodtech, though, is a significant step from its core business. As stand-alone operations, cloud kitchens don't seem to be lucrative at the moment — Faasos, for instance, lost Rs. 82 crore in 2017. But Oyo could realize some synergies from its other hospitality operations — some of the hotels it operates already serve food, and Oyo could possibly hope to use their learnings to run its cloud kitchens. Also, Oyo's cloud kitchens could provide food for its own hotels, which could end up becoming a major source of business for them.
But what Oyo's latest move comes to represent the scale of its ambition. Oyo is already more valuable than the four biggest traditional hotel chains in India combined, and it's not stopping there — not only does it want to expand into other countries, it's also moving into other lines of business. It sure seems to have the cash to do so: the company had raised a mammoth $1 billion last year. Time will tell where Oyo ends up, but for now, it's appears to be moving at a pace that few Indian startups have before it.