Zerodha CEO Nithin Kamath had spent much of last year warning everyone who'd listen about an upcoming slowdown in the stock broking business, but his own company's results belie any such fears.
Zerodha has reported a profit of Rs. 2,907 crore in FY23. This is a new record for the company, and higher than the previous highest-ever profit of Rs. 1,800 crore that it had reported in FY22. Zerodha also reported its highest-ever revenue of nearly Rs. 7000 crore, compared to Rs. 4,700 crore in FY22.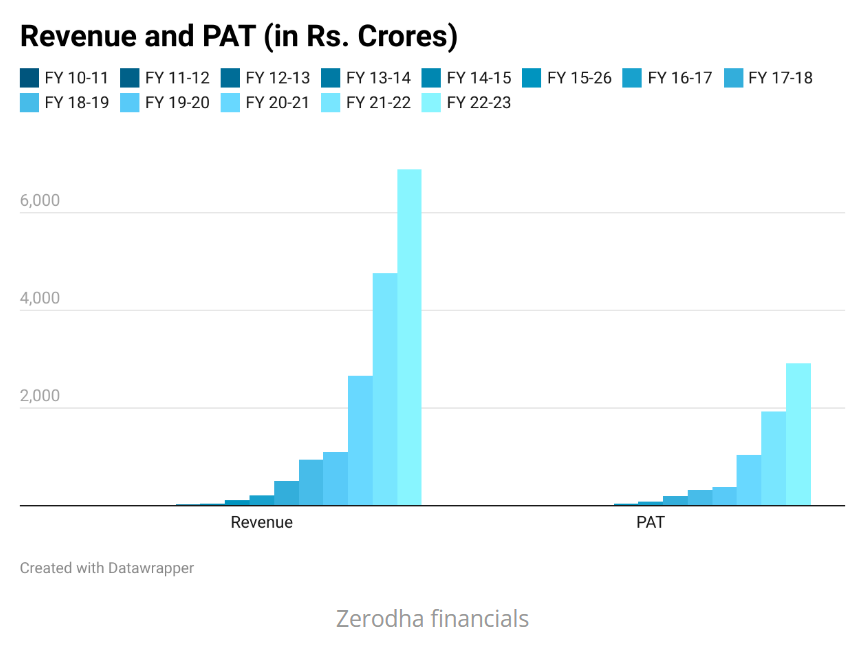 "There's still phenomenal interest in the markets, especially in futures and options. This has been the primary reason for the increase in revenue and profitability over the last three years. We continued to see phenomenal growth even in FY 22/23," Zerodha said in a blogpost. "New account openings had dropped off a cliff along with the market drop. They are now bouncing back again in sync with markets at all-time highs," it added.
Zerodha hadn't counted on this recovery. In April 2021, Kamath had said that even as the stock markets were booming, it was the "stupidest" time to raise money. "The hotness of our industry can disappear overnight with a 20% fall in the markets," he'd then warned. "As CEO, I dread to think how you can outperform the already really high expectations that growth companies have today," he'd said in November 2021.
But Kamath says he's been pleasantly surprised with Zerodha's progress this year. "As someone once said, the good thing about being a pessimist is that you are either right or pleasantly surprised, and FY22/23 was the latter," Kamath wrote in the blogpost.
Zerodha has now gone ahead and registered the highest profit ever recorded by an Indian internet firm, just ahead of the Rs. 2,749 crore profit Zoho had registered in FY22. And it's gotten there by doing things differently — the company has never raised external capital, and has been bootstrapped since inception. Also, unlike most Indian startups, Zerodha has never spent any money on marketing, and believes in letting its product speak for itself. And while most Indian startups are mired in of crores of losses, Zerodha is profitable, having now racked up profits of Rs. 2,000 crore. Time will tell if Nithin Kamath's dire warnings about a slowdown in the broking sector ever come true, but for now, Zerodha has already cemented its place in the list of India's most successful startups of all time.