Reliance has been pushing to have a play in all sort of futuristic technologies, including tech and green energy, and now it's forayed into what might be the most significant futuristic technology of all.
Reliance has announced a collaboration with global chipmaker NVIDIA to build AI supercomputers in India. The two companies will also collaborate to develop India's own foundation large language model (LLM) along the lines of ChatGPT, which will be trained on India's diverse languages and tailored for Indian use-cases. The companies say they will work to build an AI infrastructure that is an order of magnitude more powerful than the fastest supercomputer available in India today.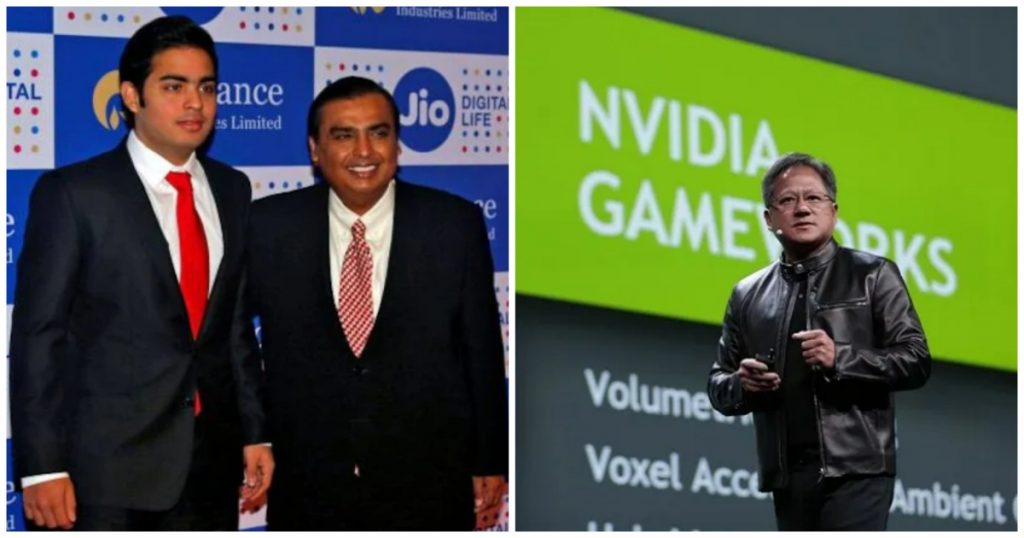 "As India advances from a country of data proliferation to creating technology infrastructure for widespread and accelerated growth, computing and technology super centres like the one we envisage with NVIDIA will provide the catalytic growth just like Jio did to our nation's digital march," said Reliance Chairman Mukesh Ambani. "I am delighted with the partnership with NVIDIA and looking forward to a purposeful journey together," he added.
"We are delighted to partner with Reliance to build state-of-the-art AI supercomputers in India," said NVIDIA founder and CEO Jensen Huang. "India has scale, data and talent. With the most advanced AI computing infrastructure, Reliance can build its own large language models that power generative AI applications made in India, for the people of India," he added.
Under the collaboration, NVIDIA will provide access to its most advanced GH200 Grace Hopper Superchip and NVIDIA DGX Cloud, an AI supercomputing service in the cloud. The NVIDIA-powered AI infrastructure will be the foundation of the new frontier into AI for Reliance Jio Infocomm, Reliance Industries' telecom arm. The AI infrastructure will be hosted in AI-ready computing data centers that will eventually expand to 2,000 MW. Execution and implementation of the infrastructure will be managed by Jio.
The statement issued by NVIDIA hinted at local applications for the AI computing project. "AI can help rural farmers interact via cell phones in their local language to get weather information and crop prices. It can help provide, at massive scale, expert diagnosis of medical symptoms and imaging scans where doctors may not be immediately available. AI can better predict cyclonic storms using decades of atmospheric data, enabling those at risk to evacuate and find shelter," the statement said.
It's an ambitious plan, and one that people should've seen coming. Reliance has its finger on the pulse of the digital economy, and currently there's no technology that's as promising as AI which could end up creating massive amounts of value. Reliance would want to have a play in the space, and as it its wont, has managed to snag the biggest global company to partner with. It had previously partnered with Meta and Google for Jio, and has now chosen to go with NVIDIA for its AI play. NVIDIA makes chips that are used for training modern AI models, and has seen its stock double over the last few months — it would be eyeing a large market like India to deploy its products. Reliance and NVIDIA could thus create a strong partnership that could end up creating value for both companies.
And such a partnership would be vital for Indian interests. India has a thriving software and services industry, but doesn't quite have a play in the AI space yet — there are no Indian AI companies that are building world-class models, and there are virtually no chip hardware Indian companies either. Reliance and NVIDIA could come together and not only make AI models in Indian languages that are tailored for Indian contexts, but also set up an AI hardware ecosystem in the country. And this foot in the door could prove invaluable for India as the country navigates the upcoming AI revolution.