The Indian EV industry hasn't had the best month — a series of electric scooters have caught fire, and many of these videos have gone viral on social media. The Indian government too has stepped in, and instituted a probe into the incidents. But even as the industry looks to quell the negative publicity around their vehicles, electric scooter sales — for now — appear to be going strong.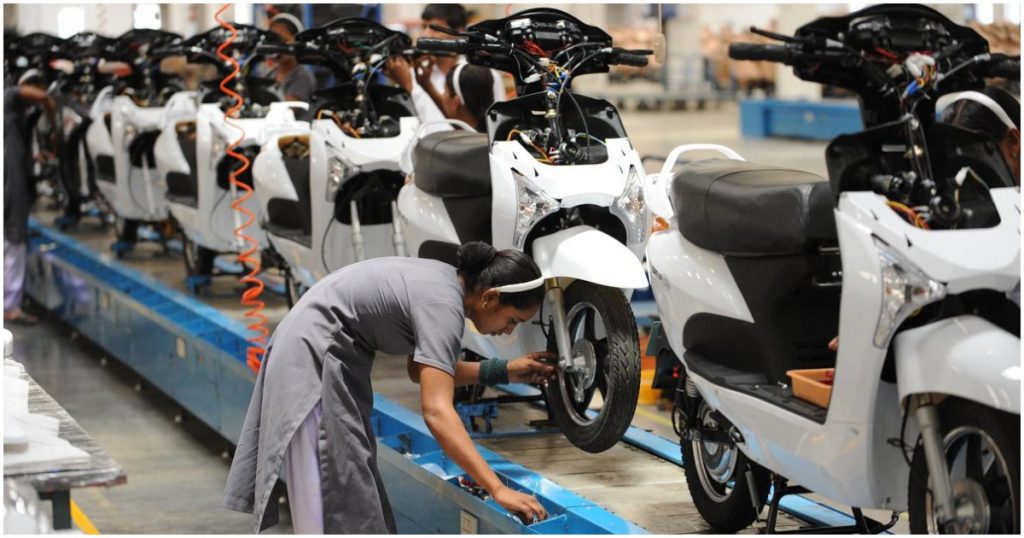 India's electric two wheeler sales increased by nearly 50 percent in March 2022 compared to the previous month, as per data shared by Federation of Automobile Dealers Associations. In March 2022, 49,607 units of electric two wheelers were sold in India, compared to sales of 32,455 vehicles in February 2022. Two-wheeler EV sales were up nearly 5x over the same period last year — in March 2021, India had seen sales of only 10,558 electric two wheelers.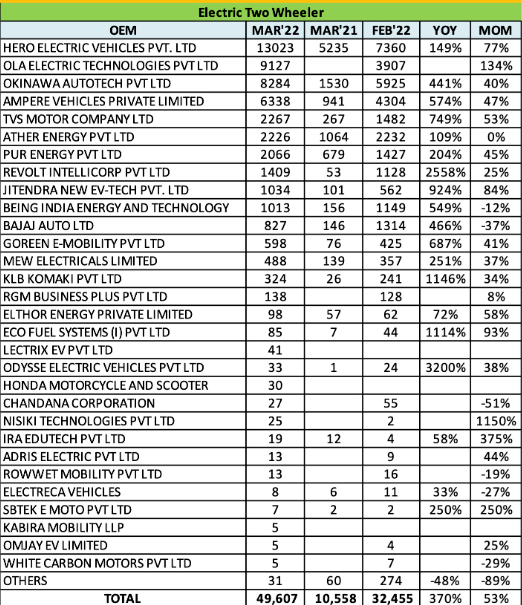 Among individual manufacturers, Hero Electric maintained its lead as India's top manufacturer of electric two wheelers. Hero sold 13,023 vehicles in March 2022, compared to 7,360 vehicles in February. Ola, however, jumped to second place in March, selling 9,127 scooters. In February, it was in fourth position having sold 3,907 vehicles. Okinawa, which had been second in February, fell to third place in March. Ampere, which had been third in Feb, fell to fourth place.
Among other prominent electric scooter manufacturers, Ather Energy was in sixth place in March with 2,226 units sold. Micromax founder Rahul Sharma's Revolt, which sells high-performance electric bikes, was eighth with 1,409 sales. Bajaj Motors, which has often feuded with EV startups and claimed that it'll eat them for breakfast, was 11th with 827 sales.
While overall EV numbers were impressive — any industry that grows 50% month-on-month is likely heading towards becoming quite prominent — EVs still form a minuscule fraction of India's overall two-wheeler sales. While 49,607 EVs were sold in India in March, an astonishing 11.5 lakh conventional two wheelers were sold in the same period, which means that EV sales aren't even 5% of overall scooter sales in India. As of March, all EV two-wheeler sales put together in the country wouldn't even make it to the top 5 of conventional two-wheeler manufacturers. But EV sales, for the moment, appear to be growing, and seem to have plenty of headroom to grow even further. And if EV manufacturers can deliver on their promises through quality products that are both cost-effective and feasible, the EV industry could end up snagging a large section of conventional two-wheeler market share in the months to come.