The Adani Group is already the biggest airport operator in India, but it is now looking to grab a slice of the consumer-facing aviation business as well.
The Adani Group has launched and is actively promoting AdaniOne, its flight and cab booking platform. AdaniOne's website says it is still in its alpha version, but the group is already advertising its services on Google to draw customers to the platform. AdaniOne allows users to book flights across India and the world. It also allows users to book Meet and Greet services at Adani's airports, and also cabs to the city from airports run by the Adani group.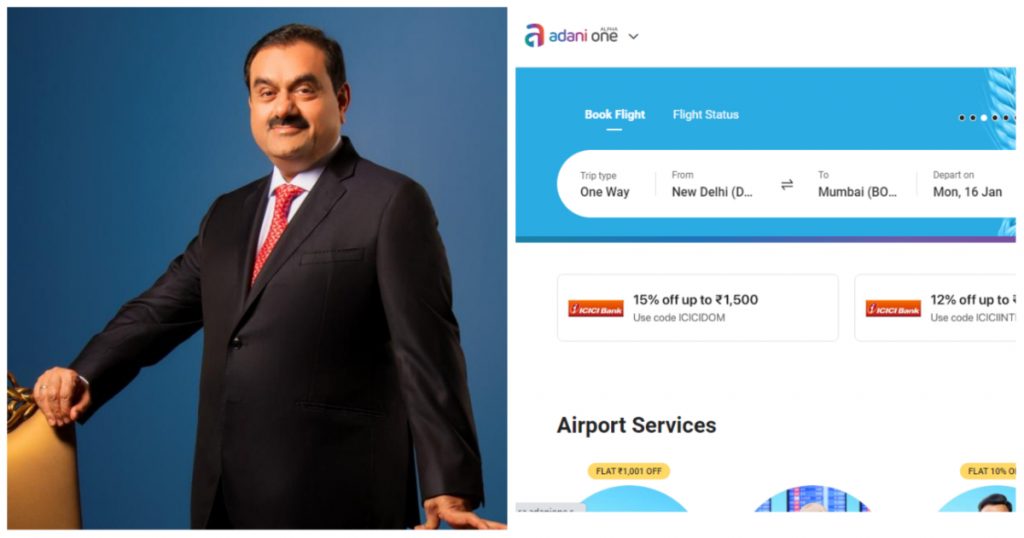 AdaniOne will compete with existing OTAs including MakeMyTrip, Yatra, EaseMyTrip, Ixigo and others. Like other OTAs, AdaniOne is offering discounts and offers to users with specific credit and debit cards. It also has a first-time user discount of Rs. 1,001 for flight bookings. AdaniOne also has offers on its meet-and-greet and cab booking services. AdaniOne is available through its website, and Anroid and iOS apps.
The launch of such a service had been imminent since the Adani Group had picked up a 20% stake in travel booking firm Cleartrip. Unlike other OTAs, which only help users book tickets, the Adani Group is heavily involved in running airports as well — it is India's largest airport operator, and runs the Mumbai, Ahmedabad, Jaipur, Lucknow, Guwahati, Thiruvananthapuram and Mangaluru airports. Adani has a ring-side view into India's aviation space, and clearly feels there's enough demand to try to get a foot into the ticket booking business as well. It has also been reported that the Adani group is also looking to acquire a fleet of vehicles in cities where it runs airports to help ferry commuters into city centers.
There's no shortage of competition in the OTA space. Companies like MakeMyTrip have been operating for years, but have failed to consistently generate profits; newer entrants like EaseMyTrip are profitable, but don't yet have the scale to interest a giant conglomerate like the Adani Group. E-commerce giants like Amazon and Flipkart have previously launched their own flight booking services in India, but have met with little success.
Unlike these players, the Adani Group also runs several airports, so it can hope to vertically integrate and cross-sell other offerings. It can cross-sell its airport services along with flight tickets, and if it can invest in a cab fleet, it can also push cab services along with its flight bookings. The Adani Group also has deep pockets, so will likely be able to match — and surpass — existing OTAs in terms of discounts and offers. All this can help the Adani group earn better margins than pureplay OTAs, which only earn a small commission on each sale because of the competitive intensity in the space.
And AdaniOne might be the group's first step towards building a superapp. It had been reported in August 2021 that the group was already working on its own superapp, and had a team of 100 employees working on developing the software. A flight booking service might be the first step towards a more comprehensive offering that could enable the group to take on existing players in the super-app space, such as Reliance and Tata. While it remains to be seen how Adani's super-app ambitions play out, AdaniOne's entry into the flight booking space will ring alarm bells among incumbent OTA players — they have a massive new player to contend with in their already crowded space.