There's no shortage of companies that have tried their hand at food delivery in India — apart from Zomato and Swiggy, search giant Google, e-commerce behemoth Amazon and ride hailing startup Ola have all experimented with their own food delivery plays. But now a different sort of company has thrown its hat into India's food delivery ring.
Coca Cola has acquired a 15% stake in food delivery platform Thrive. This is Coca Cola's first investment in India. Prior to this investment, 42% of Thrive's stake was owned by Domino's India parent Jubilant Foodworks, which has now come down to 35%.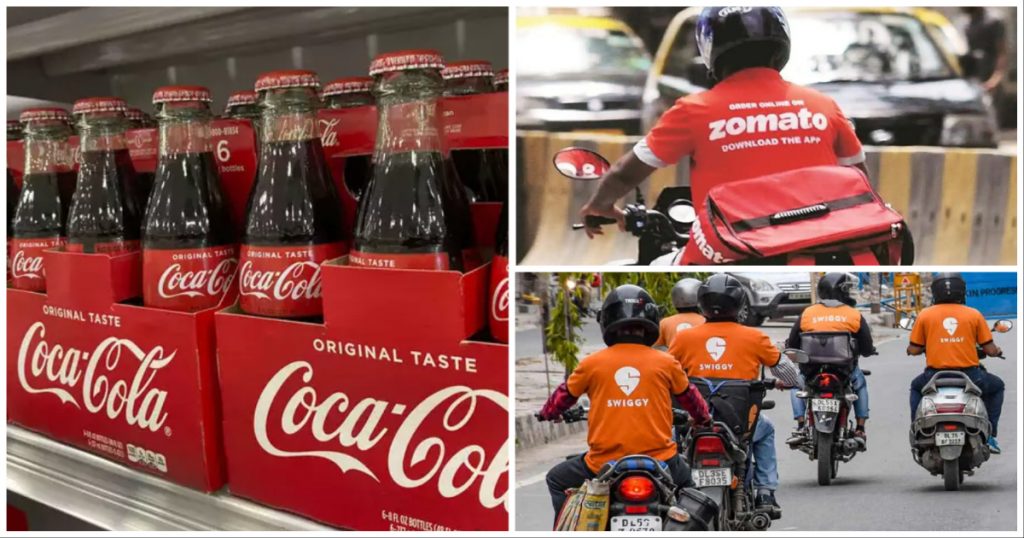 "We found excellent synergies with Coca-Cola India's leadership team in our outlook on the market and how we can work towards bringing a change," said Thrive CEO and co-founder Krish Fagwani. "Our purpose is to make food commerce better for every stakeholder involved, and we're excited to witness and collaborate with Coca-Cola India to work towards bringing a positive disruption in the food-tech space," he added.
"Coca-Cola India is delighted to partner with the Thrive Now ecosystem as we see digital capability as an essential multiplier for our India growth strategy," said Coca Cola India VP Greishma Singh. "Meals are a critical consumption occasion for our beverages, so the Eat & Drink channel is an ideal place for us to be investing in technology and innovating to digitally enable every outlet to provide a superior consumer experience online and offline," she added.
Thrive had been founded during the pandemic, and bills itself to restaurants as a low-commission alternative to Zomato and Swiggy. While Zomato and Swiggy can charge restaurants between 25-30 percent as commissions for orders on their platforms, Thrive operates on a fixed commission of just 3 percent. Unlike Swiggy and Zomato, which often keep customer data with themselves, Thrive give individual restaurants access to customer data.
Thrive has quietly built itself a sold base in India — Thrive says it can onboard new restaurants in 15 minutes, and provides end-to-end services, including accepting orders, and even delivering them through logistics partners including Dunzo, Shadowfax, and Pidge. Thrive says it has 10,000 restaurants on its platform, and has served over 2.5 lakh orders worth more than Rs. 30 crore.
It would appear that there's the need in the market for a third food delivery player. Restaurants are often at loggerheads with Swiggy and Zomato over their high commissions, and Thrive can build itself up as a restaurant-friendly alternative. Consumers, too, often find themselves running out of options if they're unhappy with the two existing players, and would likely welcome a third option.
But it's hard to build a food delivery business in India. All the way back in 2017, Google had experimented with a food delivery play named Google Areo in Bangalore, but shut it down soon after. Amazon had kept at it for even longer, running Amazon Food for several quarters before it was eventually shuttered. Ola had tried a different approach by acquiring Foodpanda and had tried to build its own food brands, but that initiative has been abandoned as well. Numerous smaller startups, including TinyOwl, Runnr and Dazo had also tried their hands at the space and failed.
Thrive, though, has a few aces up its sleeve. Apart from Coca Cola's 15 percent invesetment, 35% of Thrive's stake is owned by Jubilant Foodworks, which runs Dominos and Dunkin Donuts in India. With 50 percent of the company owned by two massive food players, Thrive will not only have no shortage of capital, but will also get invaluable insights, connections and guidance in running a food delivery platform. It remains to be seen how Thrive shapes up against the Zomato-Swiggy duopoly, but it certainly seems to be a novel attempt at cracking India's infamously brutal food delivery space.