Ola had already announced that its electric 2 wheeler fleet will ferry people around in Bengaluru, but the fleet is going to be used for other things as well.
Ola has launched a service that delivers parcels around the city. Called Ola Parcel, the service will be served by Ola's all-electric two wheeler scooter fleet. Ola Parcel will charge ₹25 for 5km, ₹50 for 10km, ₹75 for 15 km and ₹100 for 20km for parcel deliveries. "You can use tonight onwards. Expanding across India very soon!" Ola CEO Bhavish Aggarwal tweeted.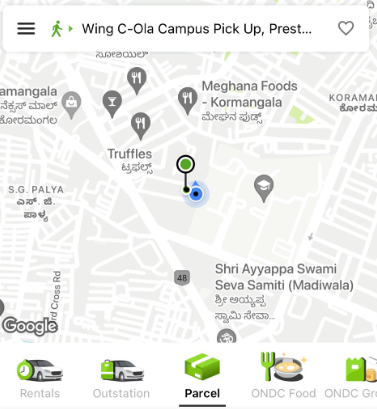 A little later, Aggarwal said that it was allowing users to use the service for free as an introductory offer. "So many people have messaged regarding our new service Ola Parcel! We will be making it FREE for today and tomorrow. Starting at noon today. Do try!!" he posted on X.
The launch of Ola Parcel comes weeks after Ola had announced the launch of its bike taxis in Bengaluru, again powered by its own electric two wheeler fleet. The rides had been priced at the same rates as Ola Parcel. It's likely that Ola will use the same fleet for its ride hailing and parcel delivery services.
This could end up being Ola's USP as it enters yet another business vertical. Ola has previously launched everything from grocery delivery to cloud kitchens to used cars, but has shuttered most of its experiments. But it might have advantages in running a ride hailing and parcel delivery service that it didn't in many of its other experiments — Ola already has millions of users on its app who're looking to travel within cities, and could easily get nudge them into using its bike services. More crucially, Ola will own both aspects of the experience — not only it has an active app where these services could be requested, it also makes the electric bikes which will power these initiatives. And the ride hailing and parcel delivery services can feed into each other, and use each others fleets' spare capacities.
Ola isn't the only ride hailing company to come up with the idea of delivering parcels. All the way back in 2020, Uber had begun delivering packages in 4 Indian cities as a way to have their cabs be used during the lockdown. The service, however, didn't see a lot of traction. Ola, though, is possibly better positioned to launch such a service — electric bikes can take packages around for much cheaper than cars, and could end up being quite an efficient way for people to move things around. And with Dunzo, the original player in the hyperlocal delivery space, imploding in Bengaluru, Ola might just be well positioned to swoop in and make an impact.