Startups are often known for rapid growth, but one of India's largest enterprises has doubled its valuation in just 3 years.
Reliance retail has doubled its valuation from $50 billion to $100 billion since 2020. In 2020, Reliance Retail was valued at $50 billion. Just last week, the company raised $1 billion at a $100 billion valuation from Qatar's Investment Authority.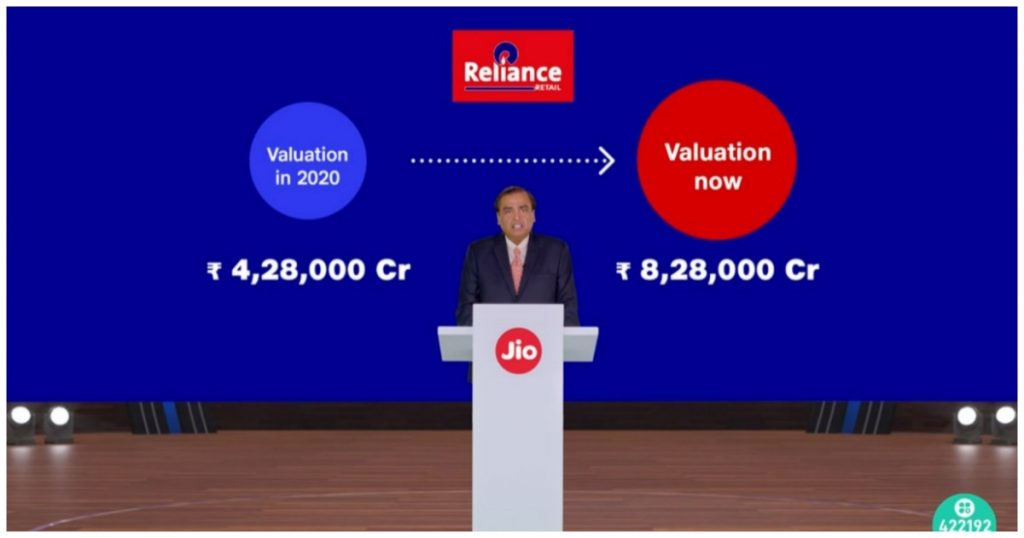 "I welcome yet another world-renowned sovereign wealth fund, the Qatar Investment Authority (QIA), in Reliance Retail, with an investment of $1 billion for 1% stake. This investment values Reliance Retail at equity value of Rs 8,28,000 cr," Reliance Chairman Mukesh Ambani said.
Reliance Retail is a behemoth. The company posted revenue of Rs. 2.6 lakh crore in FY23, with an EBITDA of Rs. 17,928 crore and a net profit of Rs. 9,181 crore. Had Reliance Retail been listed as a separate entity, it would be India's fourth largest company. It is also the only Indian retailer in the list of global top 10 retailers.
"We are delivering value to over 30 percent of India's addressable population. Reliance Retail is now ranked among the top 10 most visited retailers in the world" Isha Ambani said at the Reliance AGM. The digital and new commerce sales contributed nearly Rs 50,000 crore, about one-fifth of the total revenue.
Reliance Retail opened over 3,300 new stores in the past year, taking the total count to 18,040 retail touchpoints and 65.6 million square feet of retail area. Reliance Retail is one India's largest employers, with nearly 2.5 lakh on-roll employees, and it caters to more than 90 percent daily needs of Indian households.
And Reliance Retail's numbers make for some staggering reading. The grocery business, sold over 18 lakh metric tonnes of groceries during the year. In the consumer electronics business, the business sold nearly five lakh laptops and over 23 lakh appliances. The fashion and lifestyle business sold 50 crore garments this year. "There has been a 9X growth of JioMart customers on WhatsApp since its launch in 2022," Ambani said.
Reliance is best known for its oil business, and more recently for Jio, but is also India's largest retailer. It covers all dimensions of the retail experience through sub-brands including Reliance Fresh for groceries, Reliance Smart for bakery, Reliance Digital for electronics and Reliance Trends for fashion. It also runs large e-commerce plays in JioMart and Ajio. Apart from this, Reliance also has partnerships and investments in brands including Netmeds, Urban Ladder, Zivame, Clovia, Milk Basket and Metro Cash and Carry.
It's a sprawling empire, and appears to be Reliance's bet on the India consumption story. India is the fastest-growing economy in the world, and as disposable incomes rise, Indians will be buying an ever-greater number of goods and products. Reliance seems to have all bases covered, with businesses in nearly every major consumption vertical one could think of. And with the company having doubled its valuation over the last three years, it appears that its investors are on board with India's consumption story as well.