India's startups have laid off thousands of employees during over the last few months, and now even the Indian government seems to have taken note.
India's Labour and Employment Minister Bhupender Yadav has said any retrenchment and layoffs are deemed to be illegal if not carried out as per the provisions of the Industrial Disputes Act. Crucially, the Act stipulates that establishments with more than 100 employees are required to seek prior permission of the appropriate government before laying off employees. Most startups which have laid off employees, including Byju's, Unacademy, Vedantu, Ola and Oyo Rooms, have more than 100 employees.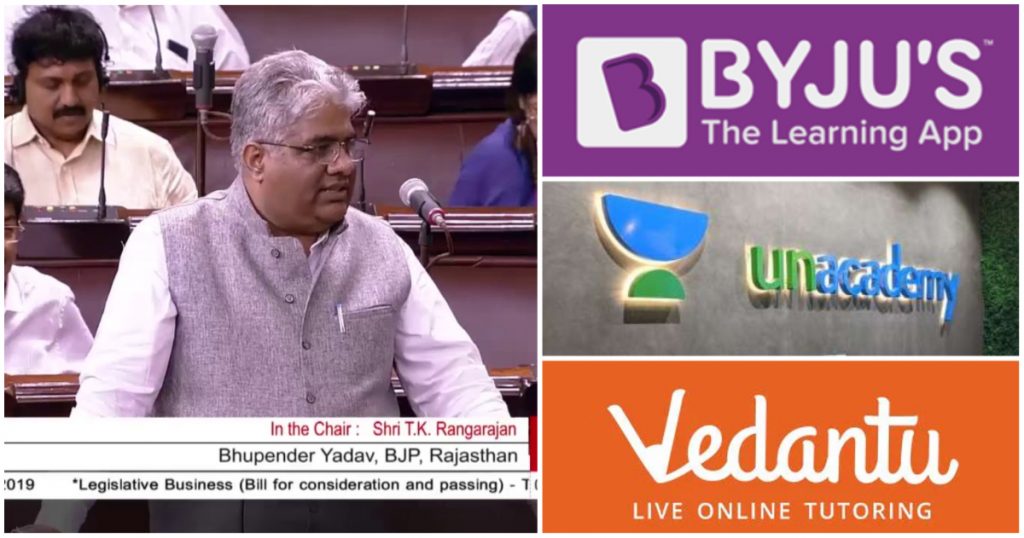 The minister was replying in the Rajya Sabha to a question about whether the government has taken cognizance of the mass layoffs in various multi-national and Indian companies in the IT, social media, Edu Tech firms and related sectors. "Matters relating to lay-off and retrenchment in industrial establishments are governed by the provisions of the Industrial Disputes Act, 1947 (ID Act) which also regulates various aspects of lay-off and conditions precedent to retrenchment of workmen. As per the ID Act, establishments employing 100 persons or more are required to seek prior permission of the appropriate Government before effecting closure, retrenchment or lay-off," the minister said.
"Further, any retrenchment and lay-off are deemed to be illegal which is not carried out as per the provisions of ID Act. ID Act also provides for right of workmen laid off and retrenched for compensation and it also contains provision for re-employment of retrenched workmen," he added.
The minister said that jurisdiction in the matters with regard to multi-national and Indian companies in the IT, social media, ed-tech firms and related sectors lie with the respective state governments and no data is maintained at the central level on laying off and retrenchment with reference to these sectors.
Based on their respective jurisdictions as demarcated in the ID Act, Central and State Governments take actions to address the issues of the workmen and protect their interests as per the provision of the Act, he said. In the establishments that lie in the jurisdiction of Central Government, the minister said, the Central Industrial Relations Machinery (CIRM) is entrusted with the task of maintaining good Industrial relations and protect the interest of workers including on the matters relating to lay off and retrenchment and their prevention.
It's not clear how the Act defines a layoff — it's possible there's a threshold of number of employees who need to be fired for the Act to come in effect — but it doesn't appear that the Act is being actively implemented. Startups, in particular, often fire large numbers of employees when they're unable to raise follow on rounds of funding, or when their products are unable to find product-market fit. Some of India's biggest startups, including Flipkart, Paytm and Zomato have all laid off employees at some point in their journeys.
And it's perhaps for the best — businesses thrive when they're able to scale up and scale down with relative ease. If companies discover it's hard to fire people, they might hesitate before hiring people on ambitious projects which have a high risk of failure. This could disproportionately hurt startups — startups often have unproven business models when they begin operations, and having to deal with government authorities if the company doesn't succeed will add a layer of complexity that early-stage startups can ill-afford. There are already indications that governments have been looking into startup layoffs — the Kerala government had "persuaded" Byju's to not lay off 100 employees after they'd approached the state's labour minister in protest. And with India's Labour Minister now invoking the Industrial Disputes Act in Parliament in response to a question about ed-tech layoffs, startups will need to watch their steps even more closely as they look to negotiate the funding winter.