Three years can be a long time in politics — and in business.
A day after its IPO, super-app Paytm is now worth less than food delivery player Zomato. After a 27% fall in its stock price on listing day, Paytm currently has a market capitalization of Rs. 1.08 lakh crore. In comparison, Zomato, which has seen its stock double since its IPO, is now valued at Rs. 1.17 lakh crore.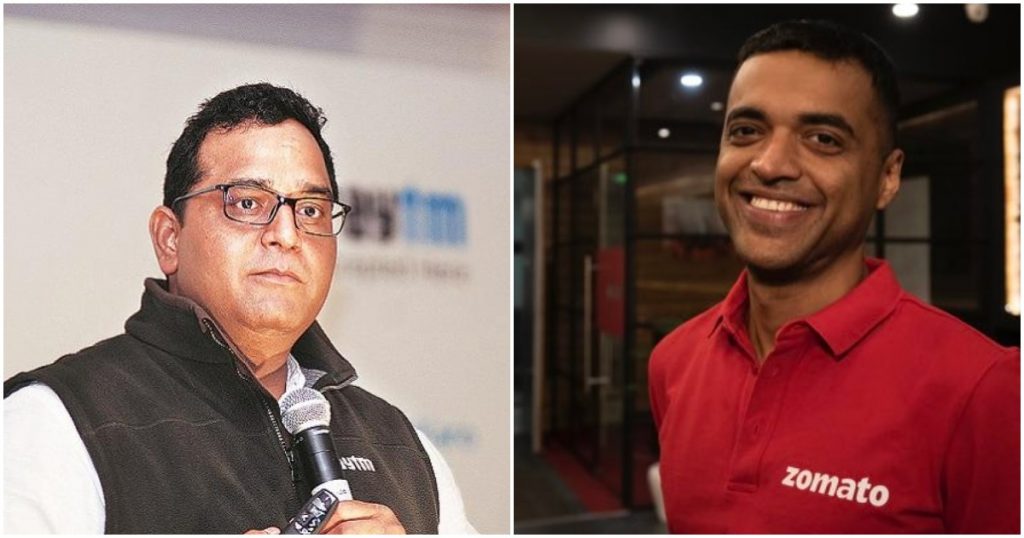 This a stunning turnaround in the fortunes of the two startup unicorns — just three years ago, Paytm was worth 10 times as much as Zomato. In 2018, Zomato had just entered the unicorn club after raising $200 million, and was valued at $1.1 billion. In comparison, Paytm had a valuation on $10 billion the same year.
Things had continued roughly on the same trajectory in 2019 — Paytm had been valued at $16 billion in 2019, while Zomato had seen its valuation rise to $3.6 billion that year. In 2020, Covid had hit both companies hard, but Zomato had probably been hurt more — it had seen its orders plummet, and it had fired staff to cut costs.
But as the Covid lockdowns ebbed away, Zomato had rebounded smartly. Its order volumes had quickly risen past Covid levels, and its valuation rose too — Zomato's valuation had risen to $3.9 billion in December 2020, and to $5.4 billion in February 2021. Paytm, meanwhile, hadn't raised funds, and continued to be valued at $16 billion.
But as both companies went public in 2021, their IPOs couldn't have gone more differently. Zomato had the first movers' advantage, becoming the first Indian startup to go public, and its stock shot up nearly 65% on opening day. Paytm, though, ended up having India's worst IPO since 2011, and saw its stock crash 27% before it hit the lower circuit and the trading in the share was halted.
It's hard to tell why the reaction on the public markets for so markedly different from Zomato and Paytm. It's possible that the public markets rewarded Zomato for its focus on restaurants and food delivery, while Paytm, which operates in tens of verticals but doesn't quite dominate any of them, didn't find a similarly welcome reception. It's possible that Zomato had the first-movers advantage, but the sheen had been taken off startup stocks by the time Patym listed. But whatever the reasons might've been, listing publicly on the stock markets has completely flipped the pecking order of two of India's most prominent startups.