It wasn't only entrepreneurs, analysts and the tech press that saw similarities between WeWork and Oyo — Softbank Chairman Masayoshi Son saw them too.
Financial Times has reported that Son referred to Oyo Rooms as "your little brother" while on a call with WeWork founder Adam Neumann. "Your little brother…is really performing faster [and] better than you guys. Let me take you through their deck and how well they're doing," Son said during the call, a WeWork executive told FT. FT reported that the Softbank Chairman was goading WeWork into growing even faster and being more ambitious when he compared it to Oyo Rooms.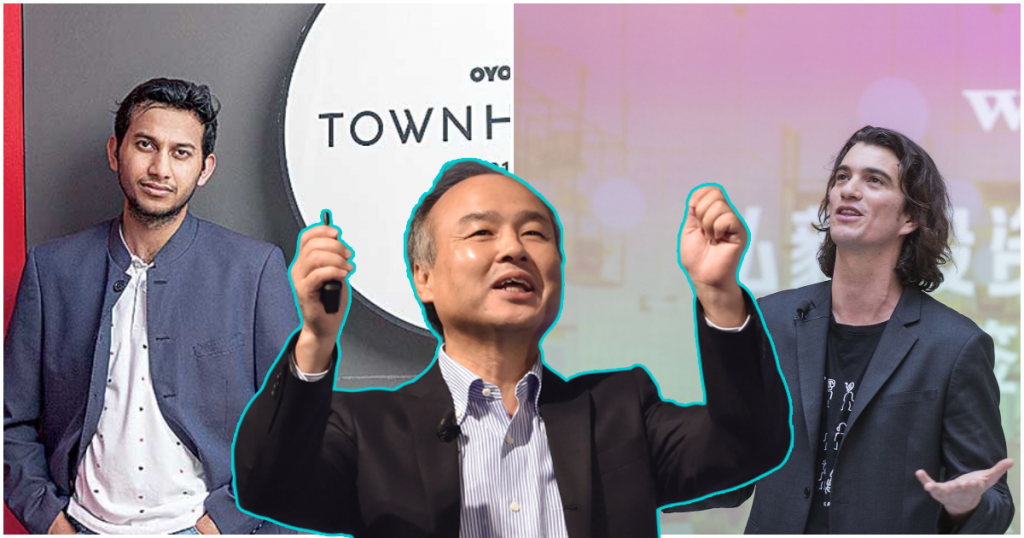 Masa Son's advice didn't go particularly well. WeWork did grow at a rapid pace, but when it tried to go public, the investing community raised its eyebrows at what it thought were financial and management irregularities at the company. It turned out that WeWork's CEO Adam Neumann had personally trademarked the name "We", and was charging the company $6 million a year to use it, and was also leasing out some of his own personal properties to the company, which led to allegations of conflict of interest. There had also been suspicions that Neumann was using WeWork to invest in companies that he was personally interested in but didn't align particularly well with WeWork's businesses — Neumann was an avid surfer, and WeWork had invested in a surfing company, and had also opened an elementary school for kids.  There were also revelations of Neumann's erratic behaviour — he went around the office barefoot — and drug use, including one incident when he had smoked marijuana while on a company flight.
As these revealations had been made, interest in the WeWork IPO had dwindled. As the IPO collapsed, WeWork's valuation collapsed with it — months earlier, Softbank had invested in the company at a valuation of $47 billion; after the IPO, it was forced to rescue it from imminent bankruptcy at a valuation of $8 billion.
The Indian startup community had looked on with interest as WeWork had imploded, and comparisons had been drawn with Oyo Rooms. Like WeWork, Oyo too was primarily funded by Softbank, and operated in the real estate space. Both companies had grown rapidly in a very short span of time — Oyo Rooms had gone from not even being worth $1 billion to commanding a $10 billion valuation in 18 months flat. But like WeWork, Oyo was losing serious amounts of money — the company lost $355 million (Rs. 2400 crore) in the last financial year. The persistent losses have taken their toll — Oyo has fired over a 1000 employees in India, and is now also laying off employees in other markets.
Oyo isn't quite as badly off as WeWork just yet — like WeWork, it has trimmed its staff, and is looking to regroup after a difficult phase. But Son's referring of Oyo as WeWork's little brother is perhaps indicative of the similarity of the business models and the trajectories of the two companies. And that could also mean that if it isn't careful, Oyo could end up meeting the same fate that befell WeWork.