India's startup space has had an incredible year — 16 new unicorn startups have been created, record levels of funding have been raised, and animal spirits have been well and truly unleashed. But one sector that's seen more than its fair share of action is India's grocery delivery space.
India's grocery delivery space had first boomed in 2015, when a clutch of new companies had begun competing to deliver groceries to Indian consumers. Some of these startups, like PepperTap, have since shut down; others like Ola's grocery delivery service, have been shuttered. But some companies from that period now have big names backing them, and the space has also attracted conglomerates from India and abroad. Here are the major players in India's grocery delivery space, along with their market shares.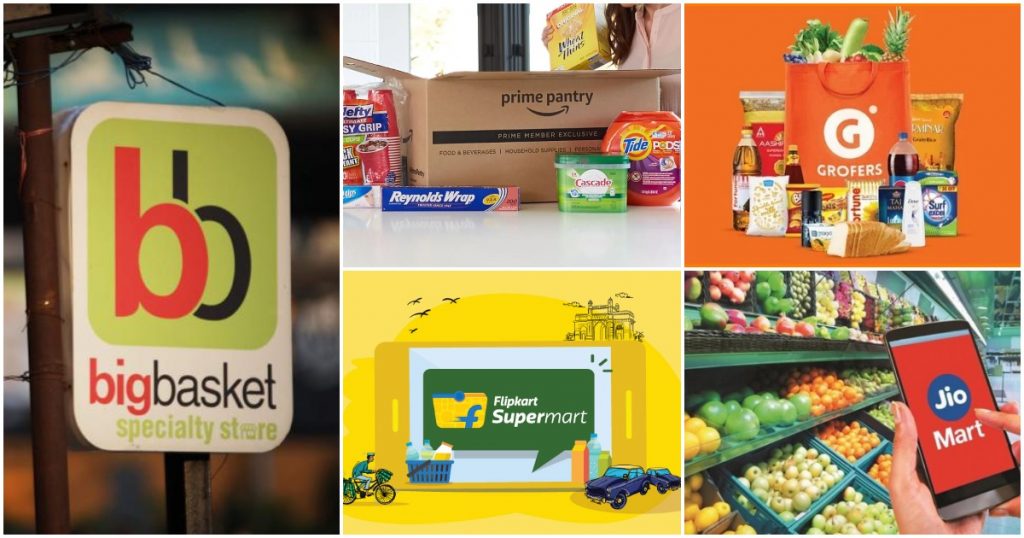 1.Big Basket
Market Share: 37%
Big Basket is the oldest company in the space, and is also the biggest. Big Basket had been founded all the way back in 2011, and has more experience delivering groceries than any of the companies it competes with now. Much has changed over time — the company ceased to be a startup this year, with the Tata Group buying a 68% stake in the company for $1.3 billion. Big Basket now has the backing of one of India's largest conglomerates, and will have no shortage of cash as it looks to grow its business. It will also have the advantage of Tata's massive customer network, and can get some Tata loyalists to use its services. But Big Basket will also have to be careful to retain its scrappy startup ways, and not get bogged down with the bureaucracy of a large company. Big Basket currently has a market share of 37%.
2. Amazon
Market Share: 15%
Amazon had entered India in 2013. It had waited for 3 years before entering the delivery space, having launched Amazon Now in 2016 which promised 2-hour deliveries in Bangalore. There have been some starts and stops since then, but Amazon has now become India's second largest grocery player, delivering groceries primarily through its Amazon Pantry service. Amazon has also acquired a stake in offline supermarket chain More Supermarkets. But Amazon has some regulatory issues to navigate — there is increased scrutiny on how it uses relate-party companies like Cloudtail to flout India's e-commerce laws around foreign companies not being allowed to sell products directly to customers, and this rule, if implemented, could particularly affect grocery products with their short shelf lives. Amazon currently has a 15% market share in India's grocery delivery space.
3. Grofers
Market share: 13%
Grofers is one of the remaining companies from India's first grocery delivery startup boom of 2015, having been founded seven years ago. Just yesterday, Zomato pumped in $120 million into the company, helping its valuation go past a billion dollars. Until then, Grofers had been the only startup in India's increasingly crowded grocery delivery fleet, and was competing with bigger names like the Tatas and the Amazons. But with IPO-bound Zomato in its corner, Grofers could soon also get the financial might to take on its deep-pocketed competitors.
4. Flipkart
Market Share: 11%
Flipkart has probably had the most topsy-turvy journey of any grocery delivery company in India. Flipkart had entered the grocery delivery space in 2015 with Flipkart Nearby, but had shut it down just five months after its launch. After Amazon had launched grocery deliveries, Flipkart had appeared to mock its sales numbers, saying that they were made up of items like "churan" and "heeng". But in 2017, Flipkart had entered the grocery delivery space itself with Flipkart Supermart. Over the years, the company has been expanding its grocery delivery business with new warehouses and offerings in new cities. Flipkart currently owns 11% of India's grocery delivery market.
JioMart
Market Share: 4%
The dark horse in the race is JioMart. Reliance had launched JioMart last year in the midst of the pandemic, and it delivers groceries in most Indian cities. It has been trying out a model that's different from other peers who hold inventory — JioMart is instead looking to connect India's millions of kirana stores with customers. JioMart has some advantages of its own — Facebook's investment in Reliance means that it has launched a WhatsApp-based ordering service before any of its competitors, and at Reliance's AGM, Chairman Mukesh Ambani stressed that JioMart had acquired a set of loyal users, with 80% of its orders coming from repeat customers. While it hasn't made a major dent in India's grocery delivery space yet, JioMart currently controls 4% of India's grocery delivery space.
While all these companies are looking to grow their businesses in India, it's likely that the size of the pie will also grow substantially grow in the coming years — it's estimated that Indian grocery delivery space will become a $22 billion market by 2025. With global giants in Amazon and Walmart, Indian conglomerates in Tata and Reliance, and startups like Grofers all in the fray, it promises to be a fascinating battle for supremacy in the grocery delivery space in the years to come.