Nykaa might've started off strongly at the stock markets, but its profits — and share price — has been in freefall since then.
Nykaa's profit has fallen 72 percent to just Rs. 2.3 crore in the March quarter. In the same quarter last year, the company had reported a profit of Rs 7.6 crore. This fall in profit came even though Nykaa's revenue rose 34 percent to Rs 1,301.7 crore this quarter from Rs 973.3 crore in the same quarter the previous year.
The fall in Nykaa's profit in the March quarter is more than the fall in its profits in the previous quarter. Last quarter, Nykaa's profit had fallen 68 percent to Rs. 9 crore from Rs. 29 crore in the same quarter previous year. Nykaa's profit too has been consistently falling for the last three years. It had reported a profit of Rs. 69 crore in the December quarter in 2020, which halved to Rs. 29 crore in 2021. It has now fallen 68% from that level to Rs. 9 crore this year. In the March quarter, Nykaa's profit is just Rs. 2.6 crore, which means that company is teetering in the edge of slipping into losses.
As Nykaa's profits have eroded, so has its share price. Nykaa's share is currently down 67 percent from its value at IPO just 18 months ago. Nykaa's shares have consistently fallen to lower and lower levels since being listed, and the pace of their fall seems to be only accelerating.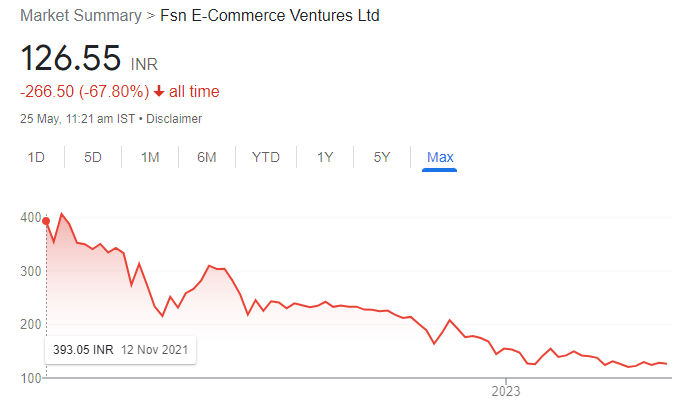 Nykaa's stock has had to face several headwinds. Last year, the company had timed the date of the announcement of its bonus issue right when the one-year lock-in period for the stock ended, which prevented investors from selling their shares as soon as they were able able to. This move was seen by some observes as a clever corporate machination that prevented a fall in in its stock price. The ploy, however, didn't quite work, and Nykaa's stock has fallen steadily since. Nykaa has also seen some big new competitors enter the space — Reliance has launched beauty platform Tira, and the Tata Group has its own beauty play with Tata Cliq Palette. The additional competitive pressure appears to have squeezed Nykaa's margins, and eaten away at its profits.
Nykaa's struggles with managing to make money mirrors those faced by other startups. Other startups which have gone public in India, including Zomato, Paytm, Delhivery and PolicyBazaar are all currently mired in losses. Nykaa was one of the bright spots on the horizon which was making money, but with its profits now down to as low as Rs. 2.6 crore per quarter, the company could soon join its peers in the long list of loss-making startup entities in India.