Reliance's interests, though its petrochemicals businesses, had thus far extended to oil. They will now also extend to cooking oil.
Reliance has launched its own Fast Moving Consumer Goods brand named 'Independence'. Independence will offer several indigenous products including processed foods, staples and daily essentials. The brand is being launched in Gujarat, and will be rolled out across the country in the coming months.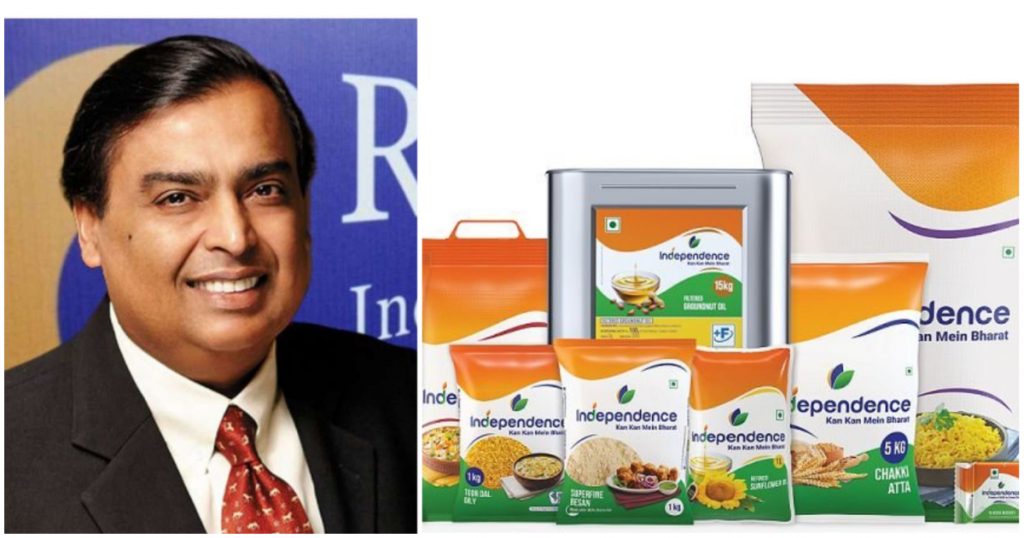 "I am happy to announce the launch of our own FMCG brand Independence which brings a wide choice of high quality and affordable products including edible oils, pulses, grains, packaged foods and other daily need products," said Isha Ambani, director, Reliance Retail Ventures Ltd at an event in Ahmedabad. "Independence products are tailor-made with a distinct understanding of Indian consumer needs and are sure to find a place in Indian households, as they are not just made in India but made for India," the company said.
Reliance says it collaborating with trade partners including manufacturers and kirana stores to create quality products, and empower them with enhanced business opportunities. It is launching Independence with a splash in Gujarat — the high-decibel integrated launch announcement is being supported with on-ground visibility and sampling activities in Ahmedabad, and complemented with outdoor and print, radio and local television ads.
It would make sense for Reliance to enter the FMCG business. The company is already India's largest retailer in addition to owning e-commerce portal Jiomart, and can use its distribution heft to find consumers for Independence. Reliance also has deep pockets, and like it had done with Jio, can offer competitive prices and discounts to pry away customers from the other brands they might currently be using.
But Reliance will have to contend with some stiff competition in the FMCG space. Reliance Independence will compete with the likes of Tata Consumer, Adani Wilmar and ITC, all of which have pretty deep pockets of their own. Also, these brands are all Indian, and while Reliance is looking to highlight its Indian roots with the brand name of Independence and a tagline of Kan Kan me Bharat ("India in every grain), that alone will not be a differentiating factor in this already India-heavy field.
Reliance, though, has made other moves in the consumer space. It had been reported that Reliance would acquire "dozens" of consumer brands in 2022, and it has already bought soft drink brand Campa Cola. Reliance has also partnered with mithai makers to take on multinational chocolate brands, and has also been looking to grow its retail presence by acquiring Germany's Metro Cash and Carry B2B Business. Reliance has also opened an ultra-premium grocery store named Freshpik, and invested in delivery company Dunzo. These might seem like disparate moves, but along with the launch of its own FMCG brand named Independence, it's clear that Reliance wants a finger in all parts of India's consumer market. And when an oil-to-telecom giant bets big on the Indian consumer, it would appear that Reliance believes that the Indian economy — and Indian disposable incomes — are set to soar in the coming years.