Over the last few quarters, Swiggy has been making rapid strides into the grocery delivery space through Swiggy Instamart. But it'll soon have to officially contend with an old foe — Zomato.
Zomato and 10-minute grocery delivery app Blinkit have reached an agreement for a merger, several news outlets have reported. The all stock deal values Blinkit at $700 million, which is less than the $1 billion valuation at which it had raised funds from Zomato in June last year. The two companies will now approach the Competition Commission of India to formalize their merger.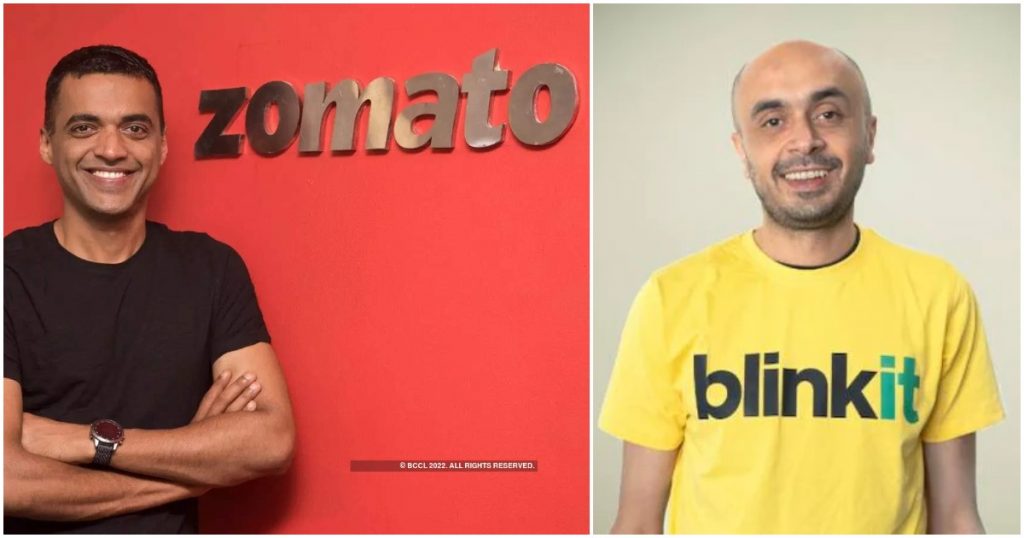 The deal had been widely expected in startup circles — Zomato had picked up at 10% stake in Grofers, Blinkit's former avatar, last year. There are other close links between Zomato and Blinkit as well — Zomato CEO Deepinder Goyal and Blinkit CEO Albinder Dhindsa are both from IIT Delhi, and are good friends. Albinder Dhindsa's wife Aakriti Chopra had served as Zomato's Chief People Officer and Chief Financial Officer, and was later elevated as Zomato's co-founder.
Grofers, though, had performed a dramatic pivot just four months ago. It had changed its name to Blinkit, and said that it would only perform 10-minute grocery deliveries. The company had been serious about its delivery promise — it had even stopped serving customers in areas where it couldn't deliver in 10 minutes. But just last week, there had been signs that the experiment wasn't quite working as expected — Blinkit had fired nearly 5 percent of its employees, and had shut down 45 of its around 500 dark stores. There had been reports that the company had also been delaying payments to vendors.
With the heft of Zomato behind it, Blinkit will likely be able to tide over its current stumble through its pivot. Zomato and Blinkit will also likely be able to utilize synergies in terms of logistics — both Zomato and Blinkit are engaged in urban deliveries, and can better utilize their combined fleets. The two companies can also likely cross promote their services among each others' userbases.
But there are still question marks over Blinkit's new 10-minute grocery delivery model. The space is crowded — Zepto and Ola both promise 10-minute deliveries as well, and Dunzo delivers groceries in 19 minutes. Flipkart too has entered the space, and says it will deliver groceries in 45 minutes. Companies like Amazon and BigBasket also deliver groceries, albeit at longer times, but with significantly bigger selections.
More worryingly, all these companies are bleeding money — no grocery delivery startup in India has ever been profitable, and 10-minute grocery delivery startups might be currently be bleeding even more money than the rest. Zomato, for its part, has also made losses throughout its history, but recent results had shown a narrowing of its losses. With loss-making Zomato now pumping as much as $700 million into even-more-loss-making Blinkit, some startup observers could wonder — is Zomato throwing good money after bad?