India's biggest unicorn startups have create plenty of value for themselves — they're worth billions of dollars, they've made the founders very rich, and they've impacted the lives of millions of customers. But there's another impact of big unicorn startups that often goes under the radar: how they help in the creation of other startups.
Hundreds of employees from existing Indian unicorns have quit, and themselves launched their own startups. Many of these startups are successful, and have raised large sums of money. The following list, compiled by Economic Times, counts the number of new startups which have been founded by alumni of these startups. Startups make it to this list if the employees worked for at least 2 years at the respective companies, and started up within 2 years of quitting. The list also only includes those startups which currently have more than 25 employees, or those which have raised more than $1.5 million. This is the number of startups created by the alumni of India's most popular startups.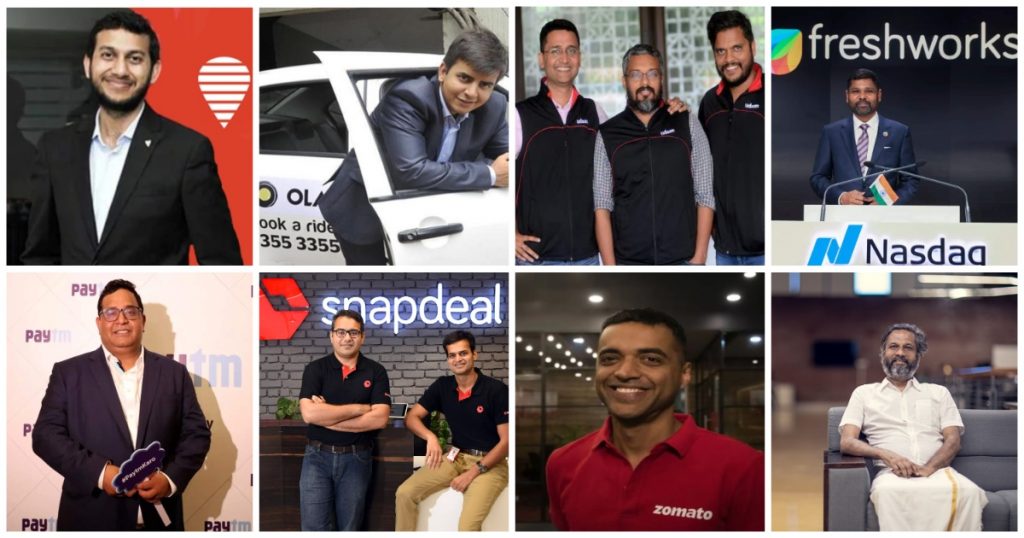 1.Oyo Rooms
56 startups created by alumni
Oyo Rooms might be looking to soon go public, but it has already birthed as many as 56 new startups. This is made even more impressive by the fact that founder Ritesh Aggarwal is still only 29 years old. At 29, he's already managed to create a unicorn in Oyo Rooms, and its executives have gone on to build 56 other startups. Some prominent startups founded by Oyo Rooms alumni include GeoIQ, Prodo, and Sorted.
2. Ola Cabs
51 startups created by alumni
Ola Cabs is one of the most successful Indian startups from its first startup wave — it was founded all the way back in 2010. Since then, it's staved off the challenge posed by Uber, become a unicorn, and done an encore by also turning Ola Electric into a unicorn. Over the years, its former executives have created 51 startups including Allo Health, and BigBHK. Interestingly, Ola's co-founder Ankit Bhati has recently quit the company and also started a new startup named Amnic, which is building an operating platform for engineering teams.
3. Udaan
25 startups created by alumni
Udaan, in 2018, had become the fasted Indian startup to become a unicorn, and it shows to be showing similar haste in birthing new ones. Udaan employees have gone ahead and already created 25 new startups, perhaps taking inspiration from Udaan founders, who had themselves left Flipkart to found Udaan.
4. Freshworks
22 startups created by alumni
Freshworks was founded by two former Zoho executives — Freshworks CEO Girish Mathrabootham was Zoho's VP of product development when he'd quit to start Freshworks in 2010. Freshworks has since gone from strength to strength, and is now listed on the Nasdaq. Its employees, though, seem to be following in the proud tradition of its founders by starting their own companies — Freshworks alumni have founded 22 startups including Growfin, Rocketlane and Everstage.
5. Paytm
20 startups created by alumni
Paytm might not be having the best run at the stock markets — its stock still trades more than halfway below its listing price — but it's managed to create value in other ways. As many as 20 Paytm alumni have gone on to start their own companies. Prominent among them are Park Plus, Dhan, IndiaGold and PocketFM.
6. Snapdeal
19 startups created by alumni
Snapdeal has found it hard to compete with Amazon and Flipkart, and is now limited its presence largely to Tier 3 towns. But it's managed to create plenty of value all the same. Snapdeal founders Kunal Bahl and Rohit Bansal are amongst the biggest investors in India's startup ecosystem, and have invested in dozens of startups. And Snapdeal alumni have also gone ahead and created 19 new startups, including Leverage Edu and eSportsBuy.
7. Swiggy
18 startups created by alumni
Swiggy is a fairly new startup compared to some others on the list — it was founded only in 2013. But its alumni have already gone on to create 18 new companies.
8. Zoho
16 startups created by alumni
Zoho is currently India's most profitable unicorn, having registered a profit of Rs. 2,749 crore in FY22. But it's also adding value in other ways. Zoho alumni have gone to create 16 new startups including Facilio, Hippo Video, and Survey Sparrow. Some of these startups have gone on to do great things themselves — ChargeBee is now a unicorn, and Freshworks is now listed on the Nasdaq.
9. Zomato
15 startups created by alumni
Zomato had made history by becoming the first Indian startup to go public on Indian stock markets. While its share price has largely floundered, the company has birthed many other startups. As many as 15 new startups have been founded by former Zomato executives including Leap.club and Ultrahuman.
10. Citrus Pay
12 startups created by alumni
Citrus Pay had been founded in 2011, and ended up being acquired by PayU in 2016. But it's continued to churn out new startups all the same — as many as 12 new startups have been founded by ex-Citrus Pay executives.