There's no shortage of unicorn startups in India any more — India had more than a hundred unicorns at last count. But what's still considerably rarer is a startup that makes money. Most of India's highest-valued startups are currently mired in losses, but there are still a handful of which are profitable. These are India's highest profit making startup unicorns as per an Entrackr study.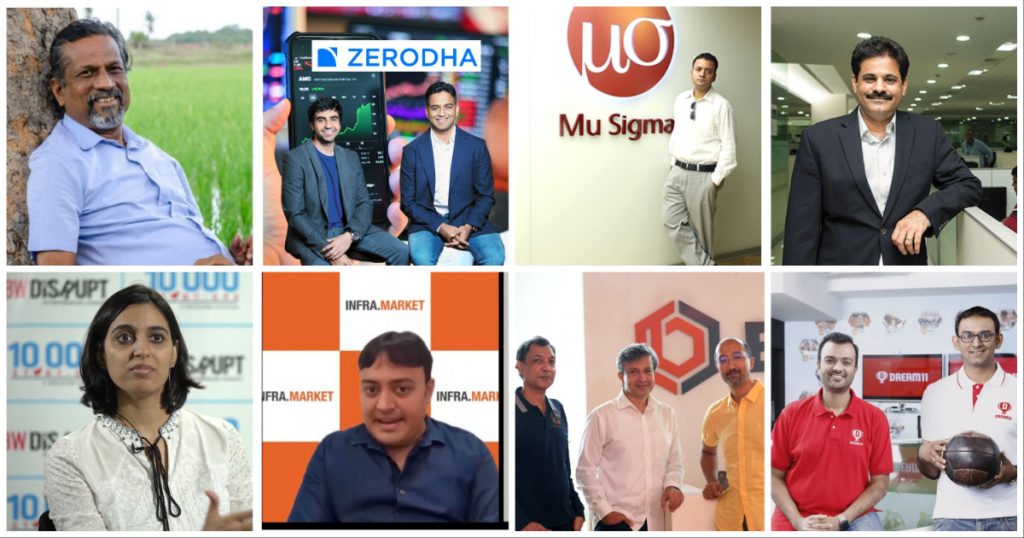 1.Zoho
Profit: Rs. 2,749 crore
Chennai-based Zoho is India's highest profit making startup, having a made record Rs. 2,749 crore in profit last year. This was the highest-profit ever made by an Indian internet company, was made even more remarkable by the fact that Zoho has been bootstrapped since its inception, and has never raised money from investors. Zoho also does a few other things differently — its founder Sridhar Vembu runs the company from a village in Tamil Nadu, and wants to open offices in 100 rural districts in India in the coming years.
2. Zerodha
Profit: Rs. 2,094 crore
Second on the list of India's highest profit making startups is Zerodha, which made a profit of Rs. 2,094 crore last year. Like Zoho, Zerodha was also bootstrapped, and never raised any funding from external investors. But the company has managed to become India's largest stock broker, ahead of big names like ICICI, HDFC and SBI. Zerodha too has an unconventional approach to business — it has never spent any money on marketing, and prefers to let its product do the talking. Its culture is unique too — the company has a tech team of just around 30 people, of which only 2 have left over the last decade, and in order to promote employee wellness, it once gave away bonuses to employees who managed to lose enough weight.
3. Mu Sigma
Profit: Rs. 442 crore
Mu Sigma was one of India's first unicorns, having reached the milestone in the last decade. But it's quietly chugged along, and still generates oodles of profits. Mu Sigma provides data analytics services to top global corporations, and boasts of clients including 140 of the world's Fortune 500 companies. Mu Sigma is India's third highest profit making startup with a profit of Rs. 442 crore last year.
4. CitiusTech
Profit: Rs. 365 crore
CitiusTech isn't a name that's often in the news, but it's quietly become India's fourth highest profit making startup. Founded in 2005 by IIT Bombay graduates Rizwan Koita, Jagdish Moorjani, and Bimal R. Naik, the company provides services such as data management, consulting, digital engineering, and artificial intelligence to health and healthcare companies. It registered a profit of Rs. 365 crore last year.
5. OfBusiness
Profit: Rs. 201 crore
OfBusiness is part of the newer batch of Indian unicorns — it attained a $1 billion valuation only in 2021 — but it's already the fifth most profitable startup unicorn in the country. OfBusiness runs a platform for sourcing raw materials, and even provides credit for small businesses through its financial arm Oxyzo. OfBusiness managed to enter a relatively untapped sector in raw material sourcing at an opportune time, and now counts companies like JSW and Jindal Steel and Power as clients. It reported a profit of Rs. 201 crore last year.
6. Infra.Market
Profit: Rs. 186 crore
Infra.Market is another new entrant to India's unicorn lists, having become a unicorn in February 2021. Like OfBusiness, Infra.Market is in the construction space, and aims to help construction and real estate companies procure materials and handle logistics for their projects. The company has also courted some controversy — an income tax raid last year had found that it had booked bogus purchases of Rs. 400 crore. Nevertheless, Infra.Market is sixth on the list of India's highest profit making startups with a profit of Rs. 186 crore last year.
7. BillDesk
Profit: Rs. 150 crore
Billdesk isn't quite a startup anymore — it was founded more than 20 years ago, and became a unicorn in 2018. Over the years, it has changed its business models a few times, but now provides payment services for clients including State Bank of India, Citibank India, HDFC Bank Ltd, ICICI Bank, and telecom firms such as MTNL, Reliance Communications, Vodafone, Bharti Airtel and Tata Teleservices. Its three founders were each worth nearly Rs. 1500 crore in 2018, and the company continues to make profits, having registered a profit of Rs. 150 crore last year.
8. Dream11
Profit: Rs. 142 crore
Dream11 has now been profitable for a few years, having first turned profitable in 2020. Since then, the company has seen dozens of new players enter the fantasy gaming business, and has seen the impact of the pandemic abate, but it continues to be profitable, having registered a profit of Rs. 142 crore this year.
9. PhysicsWallah
Profit: 98 crore
Physicswallah has stormed into the ed-tech scene over the last couple of years, and while older players like Byju's and Unacademy remained mired in losses, it's managed to turn in some handsome profits. PhysicsWallah is the quintessential startup success story — the company had started off with its founder starting a simple YouTube channel to teach students physics, and now it's a sprawling startup worth over a billion dollars. This year, PhysicsWallah is India's ninth highest profit making startup with a profit of Rs. 98 crore.
10. BrowserStack
Profit: 75 crore
BrowserStack is India's highest-valued SaaS startup, having raised funds at a $4 billion valuation in 2021. The company provides a platform for web developers to to test their code in different browsers and environments. It's been profitable since its inception, and was making $20 million in revenue before it first raised funds from external investors. The company continues to be profitable, and registered profits of Rs. 75 crore last year.